In Home Care in Houston, TX and Surrounding Areas
Comfort Keepers® offers a variety of customized care services, designed to meet the unique needs of each senior and their family.
Each client and family has its own specific needs. To meet those needs, Comfort Keepers® offers a full range of in home companionship and personal care services. With the help of in-home care services, many seniors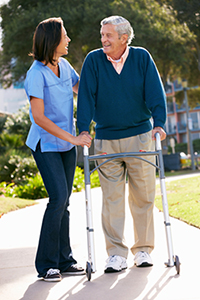 are able to remain independent and continue living in their own homes.
Our caregivers, who we call Comfort Keepers, are naturally compassionate and are trained to provide the best possible in-home care to each client. Comfort Keepers in-home caregivers are required to complete extensive in-home care training before they begin caring for clients. In addition to their initial training, they are also required to complete on-going training to maintain and enhance their in-home care skills and knowledge.
Comfort Keepers creates a customized in-home care plan for each customer, so you get just the services you need and don't have to pay for what you don't need. Available services include the following:

Personal Care Services
Grooming and Bathing
Our Comfort Keepers caregivers are trained to lessen any discomfort or embarrassment that seniors may feel with bathing, grooming and hygiene.

Mobility Assistance
To promote mobility, our Comfort Keepers in-home caregivers can encourage and remind clients to complete their prescribed daily exercises and can also accompany them on short walks around the neighborhood.

Transferring and Positioning
Proper transferring and positioning helps to eliminate pressure areas, reduce the weakening and stiffening of muscles, and encourage proper breathing, digestion, and elimination. All of our Comfort Keepers in-home caregivers are specially trained to move and position clients properly to promote health and safety in their homes.

Toileting and Incontinence Care
Comfort Keepers caregivers work to lessen the embarrassment clients may feel when experiencing incontinence or when they need assistance with toileting.

Feeding
Our Comfort Keepers in-home caregivers help to ensure that each client eats according to their prescribed diet, meant to prevent or control medical conditions.

In-Home Companionship
Conversation and Companionship
Our Comfort Keepers caregivers provide clients companionship, for instance through conversation or when they sit down to share a meal.

Meal Preparation
Since many seniors no longer have the ability to grocery shop and prepare balanced meals on their own, our Comfort Keepers in-home caregivers can prepare delicious and nutritious meals for clients.

Grocery Shopping
To help clients remain healthy, Comfort Keepers caregivers can make the trip to their client's grocery store of choice, utilizing any coupons provided by the client. If their abilities permit, clients can also join in the meal preparation and grocery shopping fun.

Laundry
Our Comfort Keepers in-home senior caregivers will tend to the client's laundry, either at their home or at a nearby laundry facility. Laundry services include washing, drying, folding, ironing and putting away clothing.

Light Housekeeping
Light housekeeping services are also provided by Comfort Keepers caregivers. This includes domestic tasks such as vacuuming, dusting and cleaning bathrooms and the kitchen. Please note that Comfort Keepers does not provide outdoor cleaning or maintenance services for our clients.

Errands
Comfort Keepers in-home senior caregivers will run errands for clients, including picking up prescriptions or going to the Post Office.

Incidental Transportation
Our Comfort Keepers in-home caregivers also provide incidental transportation to help seniors get out of the house to locations of their choice, including shopping centers, medical appointments and hair salons.

Medication
Although our Comfort Keepers caregivers cannot administer medications to their clients, they can help ensure that medications are taken as prescribed—assisting with opening containers, reading labels and providing medication reminders.

24-Hour Care
Comfort Keepers caregivers can provide flexible care, whether it's just a few hours each week or 24-hour in-home care. Care is provided by a team of Comfort Keepers who will coordinate responsibilities into shifts in order to provide the client with high quality, personalized care.
With the help of Comfort Keepers, you can feel more comfortable with your loved ones remaining in their own homes. Our caregivers and staff will work with you to determine the best services for your family member or loved one and will be available to reassess services as conditions and abilities change.
Our Comfort Keepers office provides in-home caregivers to the following communities in the Houston, TX area:
• Bellaire
• Bunker Hill Village
• Hedwig Village
• Hilshire Village
• Houston
• Hunters Creek Village
• Piney Point Village
• Southside Place
• Spring
• Spring Valley
• West University Place
To find out more about our in home care services, contact us today to see how we can help you.