Comfort Keepers Offers a Wide Range of Senior Care Services Throughout Spartanburg, Boiling Springs, and the Surrounding Area
Welcome to Comfort Keepers! Our agency is considered one of the leading home care providers for aging adults in Spartanburg. At Comfort Keepers, our priority is to ensure clients can maintain their independence and quality of life while staying comfortable at home. Do you have a loved one who is struggling to retain their independence while staying safe? Our caregivers are here to ensure seniors stay safe, healthy, and happy.
Schedule Your Free, No-Obligation Consultation by Clicking One of the Buttons Below
Contact Comfort Keepers today to speak with a staff member about the home care services we offer to aging and disabled adults in Spartanburg, Boiling Springs, and the surrounding area. Our staff is always happy to answer families' questions on how we can help their loved ones live their best quality of life every day. We encourage family members to schedule a free, no-obligation consultation with one of our care coordinators to learn more about our services and how we can help your loved one. To get started, please click one of the buttons below.
Call Us Today! Fill Out Our Form
Calling All Caregivers in Spartanburg and the Surrounding Area!
Comfort Keepers is seeking to grow our team of caregivers in Spartanburg, SC and the surrounding area. If you are a dedicated and reliable individual who would like to help the seniors in your community live their best life every day - apply to Comfort Keepers today! We offer many benefits, such as competitive pay, supportive staff, and ongoing training. For immediate consideration, please click the button below and apply to our open positions. We look forward to speaking with you!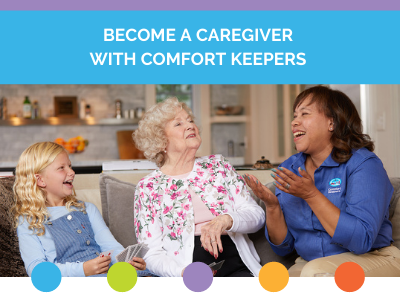 Our Services
Comfort Keepers offers two branches of care to seniors - in home care and specialized care. No matter how big or small, our caregivers can ensure your loved one receives the right amount of care and attention. Our services include:
Specialized Care Services
Custom Care Plans
Everyone has different needs and care preferences, which is why Comfort Keepers has custom care plans. Our care advisors will take the time to meet with you and your loved one to discuss services, health conditions, and limitations your loved one may have. We will then work with your family to create a care plan that suits your loved one's needs, schedule, and budget. Your loved one's care plan can be changed as their care needs change.
Our Team
Comfort Keepers requires a rigorous interview process before joining our team. Our caregivers all have experience and an innate passion for helping others. We want our clients to be confident in the home care services they receive and for their families to have peace of mind that they are in good hands. At the head of our team are owners Erin and Chris Couchel - who opened Comfort Keepers in 2006 after experiencing a need for care for Erin's mother, who was diagnosed with Alzheimer's Disease. They discovered many options for care at home, but none in Spartanburg. For information on our story, please read Upstate Business Journal's great company spotlight!