Welcome to Comfort Keepers Home Care in Salisbury, NC
Providing expert senior care services in Salisbury, Concord, Kannapolis, Lexington & the surrounding areas of North Carolina
Since 2001, Comfort Keepers Home Care has been helping seniors live happy, healthy lives in the comfort of their own homes. We are now able to offer virtual assessments to our customers to ensure the safety of all involved! Available 24 hours a day, we offer trustworthy, reliable services for your loved one.
Schedule Your Free Consultation Today!
Finding the right type of care isn't always easy to do. You must consider a lot of different factors which makes it normal to feel overwhelmed. After all, you are the one who has to make the best decision for your parent and ensure the solution you opt for can meet all their needs, no matter how little or complex they may be. We are here to help you every step of the way and give you peace of mind that you have chosen the perfect type of care.
At Comfort Keepers, we have helped hundreds of families in Salisbury and the surrounding area. With our home care solutions, your loved one can safely age at home for as long as possible and enjoy an elevated quality of life thanks to the support of our trained, compassionate caregivers. What makes us stand out are these care providers - dedicated individuals with a heart for helping others, doing the best they can to maintain and boost senior health, wellness, and independence.
We understand that it takes more than assistance with daily tasks to keep older adults truly happy. That is why all of our care plans include companionship, both in the form of conversation and interaction, to reduuce feelings of loneliness or isolation.
If you live far away from your loved one or are unable to visit as often as you would like, you can rest assured that we will match them with the most compatible caregiver so they can form a lasting bond. Together with a caregiver, your parent can go for walks, prepare their favorite meals, share a conversation over a cup of tea, and so much more.
Our home care providers treat each of our clients with the respect they deserve. Your loved one's well-being is our top priority and we will go above and beyond to make certain they are satisfied with our services in every possible way. Many of our clients say they have become close friends with our caregivers, which only goes to show how committed our team really is.
When we care for your loved one, know that all their wishes and requests will be respected. Our senior care services are available on weekdays, weekends, and holidays. Whenever your parent needs us, we will be there to help. To get started with our services, all you have to do is contact us. We are here for your family!
We are very excited about the opportunity to work with you in 2020 and show you what has made Comfort Keepers the leading provider of care for seniors for the past 19 years.
Please call us at (704) 322-3240 to learn more about our home care services. If we can't meet your needs, we will connect you with someone who can.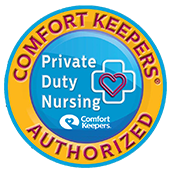 ---
NOT SURE WHAT CARE YOU MAY NEED?
If you have worried about your senior loved one living on their own, it might be time to consider in home care. Begin the process by taking a short survey to help you better understand when the time has come to pursue care options.
---
---
Have a question? We're here to help.
Simply call (704) 322-3240 or fill out our contact form to learn more about our industry-leading services and personalized care plans. Our knowledgeable caregivers are happy to share the many senior care options available in Salisbury, Concord, Kannapolis, Lexington, and the surrounding areas.