In-Home Care at Comfort Keepers in Los Lunas, NM
Compassionate and Uplifting In-Home Care Services in the Los Lunas, NM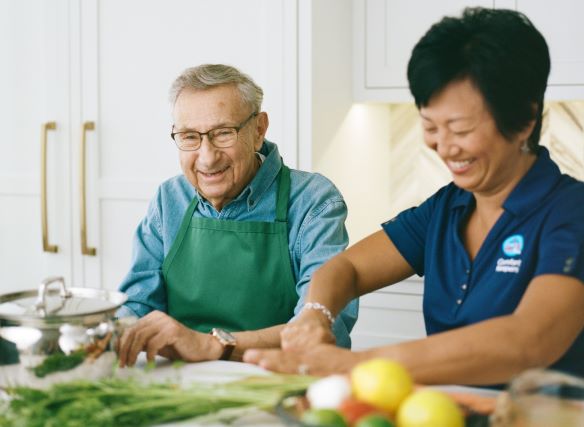 Comfort Keepers is a trusted name in senior care, providing customized in-home care to match the needs of your senior loved one.
For most seniors living at home is their number one priority going into their golden years, yet there are a lot of difficulties in living alone as a senior. At Comfort Keepers, we provide in-home care that is designed to help our senior clients continue living comfortably and independently in their own homes.
Our Approach To Home Care
We take an Interactive Caregiving approach that transforms the daily activities we help with meaningful interactions. This can include conversation and activities that help the physical and mental health of our senior clients, to more personal care like toileting and incontinence care. No matter the activity, we approach our in-home care services with the utmost respect for our senior members.
---
More About Our Home Care Services
Comfort Keepers provides an array of in-home care services that range from personal care to in-home quality companionship. Our number one goal with any of the services that we provide is to establish genuine relationships with the seniors that we serve. See our comprehensive list below to see how we can help your senior loved one continue living comfortably in their own home.
Grooming & Personal Hygiene Care
With Comfort Keepers, we can assist your senior loved ones with all of the personal hygiene and grooming needs they need. Whether that is regular bathing and shampooing, or shaving and hair combine, we are there to provide a helping hand.
Mobility and Transferring / Positioning Assistance
With the care provided by Comfort Keepers, we can ensure that your loved one is safe in their home by helping them with mobility assistance inside the home and out. We can also help our clients get around the home and in and out of bed, chairs, or anywhere else in the home. With proper positioning, we can reduce the risks of falls or muscle atrophy that often plague many seniors. This also reduces the risk of potential injuries, as well as keeping our clients comfortable in their own homes.
Nutrition and Dieting Help
Comfort Keepers can help your senior loved one keep up a nutritious and healthy diet, and even help with meal preparation and socialization at mealtime. Our caregivers work alongside your loved ones to make sure that their nutritional needs are met or that they are following a special diet that is recommended for them.
---
We Are Here To Help
To find out about our full list of services that we provide and schedule a free consultation, contact us online or call (505) 225-3256 today!