Companion Care in Edina, MN, and the surrounding area.
Comfort Keepers strives to form meaningful connections through companionship and engagement.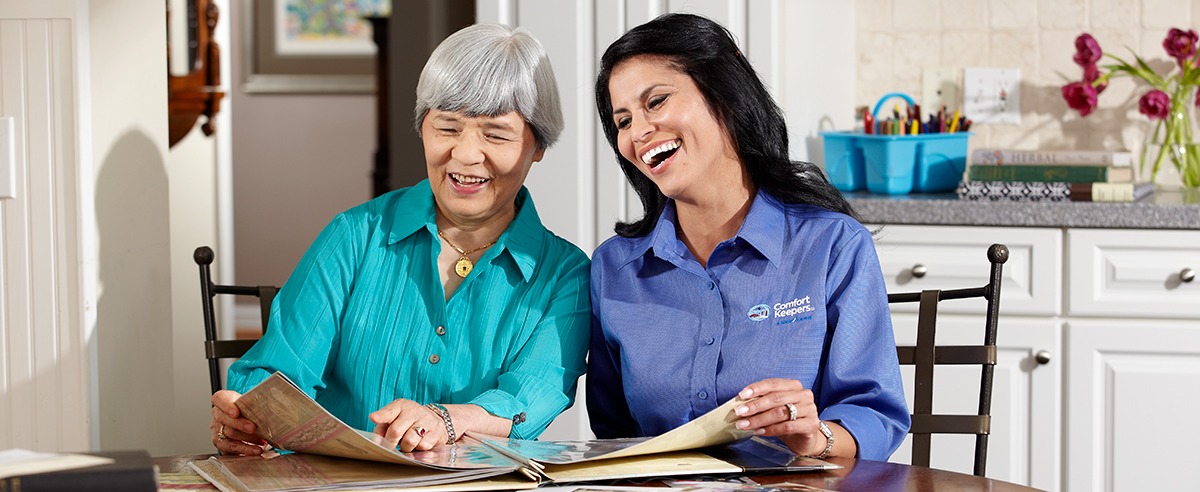 Uplifting care and friendship for your loved one in Edina, MN
We understand the vital role that socialization and companionship can play in an elderly person's mental health and overall well-being. That's why our caregivers at Comfort Keepers® strive to build meaningful relationships with your loved one through our companion care services in Edina and the surrounding area. Our team is dedicated to providing not only assistance around the house but also someone who can be there to share a laugh, provide company, and help them participate in activities they enjoy. We believe in creating memories and cherishing every moment.
What is companion care?
Companion care is the practice of providing seniors with a friend and companion for various activities. This can involve anything from engaging in conversations and playing board games to providing physical support when out and about. The ultimate goal of companion care is to help seniors remain socially active, reduce their risk for mental health conditions such as depression, and increase overall well-being. At Comfort Keepers®, our caregivers provide not only companionship but also assistance with everyday tasks. We focus on helping seniors in Edina participate in the activities that they love, safely.
Common home companion care activities include:
Conversation and mental stimulation, such as playing games or listening to music
Meal prep and time spent together over breakfast, lunch, or dinner
Light activity, such as a walk or time spent outside
Laundry and light housekeeping
Grocery shopping and errands
Transportation to and from appointments and social events
Reminders for personal care and grooming
Medication reminders
Quality care for seniors in Edina goes beyond just looking after their physical needs. That's why our caregivers strive to bring joy, mental stimulation, and physical and emotional well-being to each of the seniors we care for. Our companion care program provides not only companionship but also regular communication with the client's family, so everyone can be up-to-date on their care, regularly.
A holistic approach to companion care in Edina, MN
At Comfort Keepers®, we believe in caring for all aspects of the individual's health and well-being, not just completing tasks for them. Our Interactive Caregiving™ philosophy is a holistic approach that pays attention to the mind, body, spirit, and overall well-being of our clients. We use activities with our clients to help them engage more deeply, gain fulfillment from every moment, and elevate their spirits. We do things with our clients, not for them.
How Comfort Keepers companion care in Edina, MN can help
Our in-home caregivers are trained and skilled in a broad range of care services that support home companion care and senior mental health. These companion care services include:
Nutrition and Meal Prep
At Comfort Keepers®, we understand that diet plays a crucial role in maintaining your overall well-being. That's why our caregivers are here to provide assistance with grocery shopping and meal preparation. Whether your loved one needs help following a special diet or just some companionship in the kitchen, our caregivers strive to make mealtime both healthy and enjoyable for seniors and other adults in Osseo and the surrounding communities.
Conversation and Companionship
At Comfort Keepers®, we understand how important social engagement is for seniors. Studies show that those who remain socially active often have an improved quality of life and a lower likelihood of depression and cognitive decline. Our caregivers provide conversation, companionship, and even camaraderie during a client's favorite activities - all as part of our effort to form lasting, meaningful relationships throughout Osseo.
Laundry and Light Housekeeping
Our caregivers can take care of all laundry needs, either in the home or at a nearby laundromat. These services can include washing, drying, ironing, and putting clean laundry away. Light housekeeping services include vacuuming, dusting, sweeping, mopping, cleaning bathrooms (sinks, tubs, showers, and toilets), cleaning kitchens (sinks, appliances, counters, and taking out the trash), straightening all rooms, organizing closets and drawers, and cleaning any interior windows reachable without a ladder.
Grocery Shopping and Errands
Comfort Keepers care services can include grocery shopping, prescription pick-up, or other errands into the custom care plan to assist those that prefer not to, or can't, leave their home.
Transportation
We can provide rides to and from hospital stays, as well as help getting to important appointments or around Edina.