Providing Care For Seniors in Jacksonville, FL and the Surrounding Area Since 2002
Comfort Keepers of Jacksonville, FL is a leading provider of home care services and your partner for providing the best possible quality of life for your loved ones. By offering a unique range of services that create full home support we can give your family something exceptional. Through customized care plans for each of your loved ones, our staff is able to adapt our services so you're getting the right amount of aid in the areas you need it most.
We're here to provide services that make a real difference, that's why every member of our staff is screened, tested, and fully trained. No matter what your senior's unique situation or needs may be, our caregivers are able to adapt their care accordingly. Services can be scheduled for as little as a few hours a week to around the clock. Our devotion to quality care is backed by our Operational Excellence Award- which is presented to home care agencies that have consistently provided excellent services for their clients, a thriving environment for their staff, and overall improved the community around them.
Support for your family only takes
---
Our Services
All of our care plans are designed to promote the preservation or improvement of their mental and physical health. Caregivers are careful to take every moment and make it more meaningful. It can be as easy as having a good conversation while tasks are being completed, inviting your loved ones to join in and help when they can, and encouraging them to exercise and eat healthily. All of our care plans are designed to promote the preservation or improvement of their mental and physical health.
In-Home Care Services:
Companion Care: Stimulating seniors through good conversation and favored activities.
Personal Care: Dignified assistance with personal tasks like bathing, dressing, and grooming.
Respite Care: Support familial caregivers so they can always be at their best.
Seniors & Technology: Pairing seniors with technology to keep them connected and informed.
Specialized Care Services:
24 Hour Care: Around-the-clock supervision and assistance within the home.
Dementia Care: Special care for seniors experiencing difficulties with cognitive decline.
End of Life Care: Essential care and support for seniors diagnosed with a limited life expectancy.
In-Facility Care: Providing services in assisted living facilities and anywhere else that's called home.
Post Hospital Care: Helping seniors recover and avoid re-admission after transitioning from hospital to home.
---
A Team Of Compassionate Professionals
We make sure to handpick only the best to be part of our in-home care team. Those seeking to be a caregiver and help seniors through our agency must be a leader that values hard work and professionalism. Forget quick visits to a hospital room or nursing facility, with our care plans we can ensure that you'll be able to spend quality time with each of your clients. Those seeking to bring a caregiver to support their family can trust that their loved ones are in good hands. All caregivers are trained, regardless of previous experience, and placed in our continuing education program. There, they are able to have the chance to gain or update various certifications.
See if you qualify!
Narrated by Comfort Keepers® founder, Kristina Butler, this video highlights the opportunity caregivers have to make a positive impact on seniors' lives.
---
From USN To CEO
.Owner Kathryn Murphy speaks with The Fairy God Boss about how her experiences in the United States Navy have helped shape her career. As a Veteran, she was able to bring a unique perspective to her role as a leader and as an effective team builder in the health care industry. As an experienced CEO, she is also able to give advice to Veterans looking to transition their careers into the civilian realm.
---
Making A Difference
Our agency is all about making a difference in the lives of seniors and their families. Listen to our owner and director, Kathryn Murphy, as she discusses why she started her Comfort Keepers franchise. You can find out other ways she's been able to give back to the Jacksonville community!
You can also listen to her spot at the Jacksonville Women's Business Center!
---
We're proud to say we've been helping seniors and their families since 2002! It is our greatest honor to be Jacksonville, FL's most trusted provider. Although we have learned a lot over those years, there is one thing that has always stayed consistent: our dedication to providing high-quality home care for seniors no matter their conditions.
Along with almost two decades of service, we're also proud to be recognized for our hard work when it comes to helping seniors. For our consistency in quality and customer satisfaction, we have been presented with the Operational Excellence Award, Home Care Pulse awards, and many more. Our office has also sustained an A+ accreditation rating from the Better Business Bureau. Owner Kathryn Murphy is also highly recognized for her work.

---
Contact Us
Every client has unique needs and situations, so Comfort Keepers of Jacksonville, FL offers a full range of services to provide seniors with the right amount of support for independent living at home. Contact us today at (904) 337-6039 to learn more and get started on your path to quality care from a provider you can trust.
HHA License# 299992389
Contact Us Today! (904) 337-6039
---
Affiliations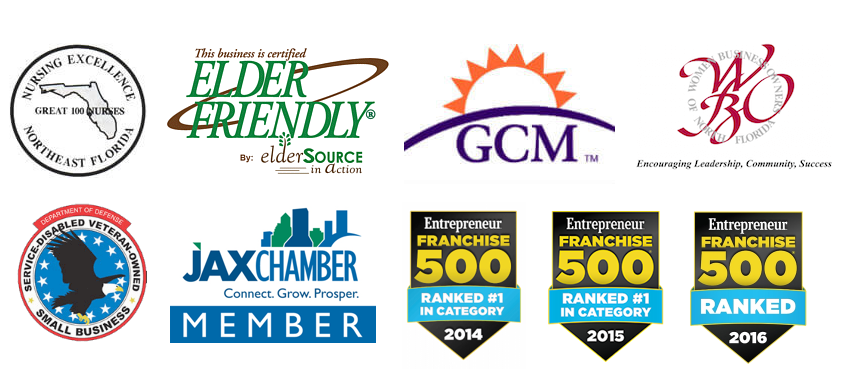 ---
Leave Us A Review

At Comfort Keepers, our home care providers strive to exceed the expectations of our clients every day. We would not be able to do that if it weren't for your valuable feedback. If you could take the time to follow the link below and leave a review of the services you received, it would mean the world to us! Just follow the instructions below to get started. All you need is a Google account.
1. Sign into your Google account
2. Click on the link below
3. Give us a star rating and leave a comment