Dementia and Alzheimer's Care Services in Durango, CO
Comfort Keepers caregivers are specially trained to provide in home dementia care
Dementia and Alzheimer's disease create new challenges, not only for seniors suffering from these illnesses but also for their spouses, children, and other family caregivers. As memory illness progresses symptoms and care need to be changed as well. For family caregivers who are balancing work, raising children, personal needs, and providing dementia care, these changes can cause incredible strain.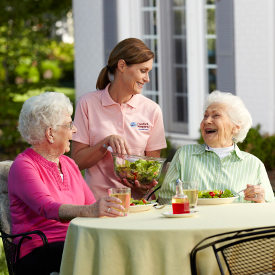 Providing adequate dementia or Alzheimer's care is not something family caregivers have to do alone. Professional care services from Comfort Keepers in Durango, CO, offer custom plans of care to meet the unique needs of these seniors and their families.
Comfort Keepers understands the special care needs of seniors with dementia. If a senior is in the early stages of Alzheimer's disease or dementia, they may only require part-time in home Alzheimer's care. This may include help with bathing and grooming, dressing and personal hygiene, mobility assistance, and companion care.
What is Dementia and Alzheimer's Disease?
In general, dementia is a decline in mental ability, such as memory loss or an inability to complete familiar tasks, serious enough to interfere with a person's daily life. Alzheimer's disease is the most common type of dementia, accounting for 50 to 80 percent of dementia cases. Our services help people with these symptoms by focusing on their remaining abilities and strengths while assisting with tasks that have become difficult for the client to perform.
Respite Care
Part-time care, also known as respite care, is also beneficial to the families of seniors with Alzheimer's or dementia. Respite care providers can come into the home for a few hours at a time, on an as-needed basis. This allows family caregivers time to rest, recover, pay attention to other matters, and return home refreshed. It is essential that family caregivers pay attention to their individual needs and not just the care needs of senior loved ones.
Specialized Care Plans
Family caregivers may determine that their senior loved one may require more comprehensive Alzheimer's care services as their dementia progresses. 24 hour home care is available for seniors in Durango, CO, and the surrounding areas. Trained caregivers can help seniors get ready for bed, keep them from wandering during the night, and provide comfort and companionship.
The main priority of dementia care providers is maintaining a safe, healthy environment for seniors. Caregivers will engage seniors through conversation and activities, promoting mental stimulation and activity. Caregivers can ensure that walkways are open and free of obstructions and clutter.
We are here to help
If you would like to learn more about Comfort Keepers's dementia and Alzheimer's care services in Durango, CO, please call (970) 344-9717 or contact us online today. Our staff is available around the clock to answer any questions you may have.