Providing In Home Care for Adults in Durango, CO
Comfort Keepers offers a comprehensive selection of personal in home care services to assist your loved one in remaining comfortable in their own home during the day or overnight in Durango, CO, Farmington, NM, Aztec, NM and surrounding areas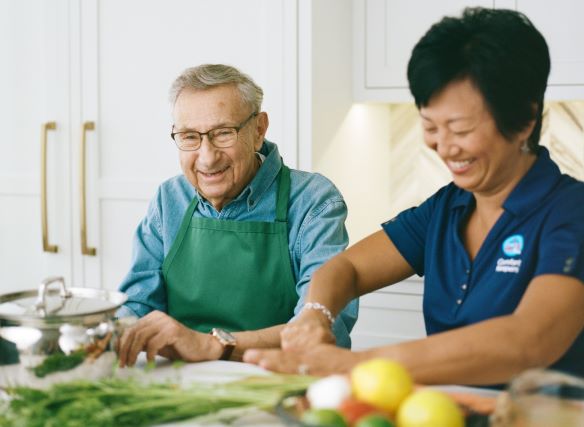 Comfort Keepers provides a wide range of personal in-home care services to help your loved one continue living comfortably in their own home
At Comfort Keepers of Durango, CO we provide fully personalized care plans that cater to each senior's unique needs. All of our caregivers are fully trained to provide compassionate in-home care services designed with you in mind. Read more about our full array of services below.
---
Personal In-Home Care Services with Comfort Keepers
Bathing and Personal Care Services
Your senior loved one can feel confident in their appearance with the help of our caregivers providing the highest quality in-home care aimed at keeping up their personal hygiene and grooming needs.
Mobility Assistance and Toileting / Incontinence Care
At Comfort Keepers, we can help your senior loved ones to remain active throughout their Golden Years with our in-home care. Whether that means planned exercises or fun activities like gardening and dancing. This will help them to remain fit and healthy and really improve their physical and mental health. Our caregivers also help those seniors with difficulty moving around the house by helping them transfer and position with care. This also means that our caregivers can help with incontinence by helping keep up your senior loved one's personal hygiene. We handle this with utmost professionalism so that our senior clients feel comfortable and lessen any embarrassment associated with it.
Meal Preparation and Special Dieting
Our professionally trained caregivers can provide help with meal preparation and making mealtime something that is a social activity. Whether that means help with getting groceries, preparing food, or just sitting down and enjoying a meal together. With our senior care, you can be sure that your senior loved one will get all the nutrients they need to continue living a healthy life.
Light Housekeeping and Transportation Assistance
With Comfort Keepers, you can be sure that your senior loved one will be living in a home that's free of clutter and in a home that's a safer place to live. Our caregivers can help with vacuuming, dusting, sweeping, mopping, laundry, and so much more. Also, every one of our caregivers is licensed and insured to safely transport your senior loved ones to wherever they need to go. Whether it's running simple errands or doctor's visits, our caregivers are there to help with the transportation your loved one needs.
---
We Are Here To Help
To learn more about our services or to schedule a free consultation, give us a call at (970) 344-9717 or contact us online today! We can care for your loved one at any hour of the day or overnight.