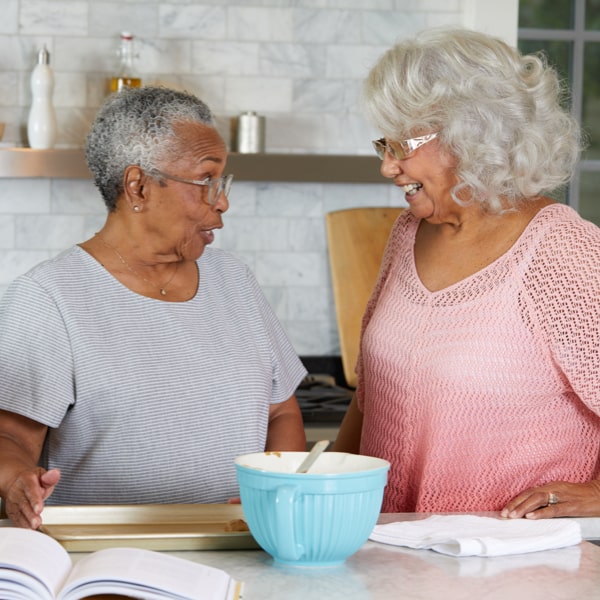 Senior Care Services & Solutions From Comfort Keepers of Buena Park, CA
Learn more about the customized senior care services we have to offer in Buena Park, Cerritos, Cypress & Fullerton, CA

At Comfort Keepers Home Care in Buena Park, CA we offer in home senior care services for older adults who want to live at home as they age. Our care services are tailored specifically for each senior. Find out what our highly-trained and compassionate caregivers can do for your loved one.
Comprehensive Care Services
We take a holistic approach at Comfort Keepers. We know it's important for your loved one to live in a clean space, which is why we offer light house cleaning services. We also know that it's easier to feel good when you look good, so we offer grooming, hygiene, bathing, and laundry services to ensure that your loved one feels clean. We offer meal prep services and medication management to make sure that your loved one gets the nutrients they need.
That's not all, though. We know there's more to life than just the basic needs. At Comfort Keepers, we also offer incidental transportation senior care services which allow for your senior to get out of the house and be social. Many of our caregivers and seniors become friends, too - companionship is incredibly important, especially as we age.
Your loved one's senior care services care plan and caregiver can grow with them as needs change. We offer 24-hour care as well as specialized dementia and Alzheimer's care. This way, your loved one can keep the same caregiver for many years.
Customized Caregiving
At Comfort Keepers, we know that each senior has different needs. If you decide to work with us, the first step will be to schedule a free in-home assessment. This gives us a chance to get to know your loved one, and it gives you and your senior a chance to tell us what kind of care is needed.
When matching your loved one with a caregiver, we take into account your senior's personality and interests to match them with a caregiver that they'll like. We know that it's important for seniors to enjoy the company of their caregiver.
Work with Comfort Keepers
Our caregivers come from all parts of our service area, allowing them to provide personalized care services that keep them engaged in their local community. Whether your loved one is interested in visiting a museum, getting their hair cut, or taking a walk in the park, their caregiver can provide companionship and incidental transportation to allow your loved one to take advantage of what the city has to offer. If you are interested in learning more about our senior care services, contact us today or call (714) 202-0197 anytime to schedule a free care consultation.