In Home Care in Green Bay, WI and Surrounding Areas
Comfort Keepers® is a leading provider of senior care services.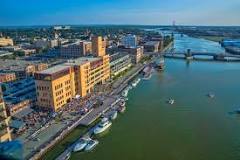 Comfort Keepers has provided care to seniors, and other adults in Green Bay and the surrounding communities since 2001. Comfort Keepers offers home care to seniors located in Green Bay, WI and surrounding areas. A caregiver will travel directly to a client's house to provide assistance with daily responsibilities, so family members can rest assured knowing that their loved ones are receiving the care they need. Many seniors prefer to stay in the comfort of their own home as long as possible.
Comfort Keepers is able to provide in home care on multiple different levels. Your family can customize Comfort Keepers services from a few hours a week with a client or assistance around the clock. Caregivers from Comfort Keepers can assist with basic responsibilities like bathing, dressing, housekeeping, meal preparation, and providing medication reminders. Caregivers from Comfort Keepers regularly accompany clients to Bellin Hospital, St. Vincent Hospital, and Aurora BayCare Medical Center in Green Bay, WI.
Comfort Keepers Provides Home Care In Green Bay, WI
Comfort Keepers encourages clients to out of the house and enjoy nature. Caregivers who take clients out into the community on a regular basis find that they are happier overall. Caregivers often accompany clients to Baird Park in Green Bay, WI as well as The Wildlife Sanctuary in order to get in touch with nature. Another way to engage clients in their lives is during mealtime. First, caregivers can bring clients to the grocery store and purchase high-quality food. Then, caregivers and their clients take part in meal preparation together, creating a nutritious meal. Finally, both a caregiver and a client enjoy a meal together, discussing whatever is on their mind.
The home care provided by caregivers from Comfort Keepers is in a league of its own. Caregivers will take care of basic needs, ensure client safety, and take part in enjoyable activities with their senior clients. In many cases, family members choose to allow a caregiver from Comfort Keepers to assist their loved ones in the comfort of their home, allowing seniors to enjoy their golden years to the fullest.
Community Involvement
We work closely with numerous senior organizations in the Green Bay and surrounding areas. We participate in the Senior Food Drive, partnering with ADRC. Our goal is to raise 1,000 lbs. of food for our local seniors in need.
We have a strong relationship with Prevea Health Network and work closely with the Doctor Networks of St. Mary and T. Vincent Hospitals. Partnering with local hospitals and health networks helps to allow our nurses and caregivers to provide a comprehensive approach to caring for you or your loved one.
For more information, or to schedule a free in-home consultation, call us at (920) 204-6068 or contact us by filling out this form.