In Home Senior Care Providers That Can Help Your Loved One in Herndon, VA Maintain A Healthy Diet
There are so many good things that come with age, such as not having to go to work, but it comes with its share of problems, including not being able to do many common daily tasks.
There is NEVER a reason for seniors to suffer from poor senior nutrition.
For many seniors preparing healthy, nutritious meals can be out of their realm of abilities. Instead, they turn to junk foods, processed foods, and very little in the way of nutritious foods.
At Comfort Keepers of Herndon, VA our in home senior care comes with a senior care provider who has been trained in senior nutrition and loves to cook tasty meals your loved one will enjoy.
Give us a call at (703) 424-9519 to learn more!
What's the Deal with Senior Nutrition?
Seniors go through a lot of changes as part of the aging process, some of which include slowing down and an inability of their body to produce nutrients.  
Seniors may:
Notice changes in their sense of taste
Might find their body becomes slower at producing natural nutrients
Start to see a decrease in appetite
Might find their body becomes slower at absorbing outside nutrients
A lack of nutrition and proper senior care can lead to broken bones, disease, illness, poor mobility, and slower healing.
Our Care Can Make a Difference
When it comes to your loved one's senior nutrition our in home senior care comes with a nutrition superhero. They come in daily to prepare healthy, nutritious, and most importantly of all, tasty meals. Our caregivers can meet all medical, religious, and personal preference diets.
Along with this, our caregivers will help with:
Planning nutritious meals – they will work with you and your loved one to develop tasty meal plans that meet their nutritional needs.
The weekly grocery shopping – whether it's going shopping with your loved one and make a day of it or do the shopping for them.
Cooking tasty meals – while tasks like peeling chopping, cutting, and cooking using heavy pans, can help seniors with dexterity and mobility, many can no longer handle these tasks. As part of our program, our caregivers can assist with all phases of meal preparation.
Feeding – whether it's due to injury, illness, or disease, some seniors struggle to feed themselves. Our caregivers are trained to assist without embarrassment or making your loved one feel like they are losing their dignity.
Eating Healthy Can Be Expensive
One of the hardest parts of living on a fixed income is trying to pay the bills and leave enough money to buy healthy foods. When this happens, many seniors turn to canned, frozen, or processed foods with no nutritional value. When you add a poor diet together with multiple medications, supplements, and more frequent visits to the doctor, poor nutrition is most often the result.
Thankfully, there is a variety of local, state, and federal aid programs that can help such as Meals on Wheels that delivers hot and ready to cook meals to seniors.
Among the more common agencies are:
Here are a few of the most common ones:
Be sure you visit https://www.benefitscheckup.org/ to learn more about the many benefits available to your loved one. 
You can also help your loved one by:
Choosing fresh food options first
Watching for sales and coupons
Make a shopping list and stick to it
Comparing food labels, just because an item costs more doesn't make it better!
Buying foods that are in season
Looking for deals at the supermarket and comparing them to those at the farmer's market
Keeping foods stored in the fridge or freezer to extend their lives
Planting a garden of fruits and vegetables
Seniors tend to require fewer calories in their diets, what they do require is a healthy diet filled with nutrient-dense foods. Poor senior nutrition can quickly lead to malnutrition.
Your loved one's diet should include:
Fruit
Protein/Fish
Low Fat Dairy
Whole Grain
Vegetable
If your loved one has special dietary requirements, be sure you talk to their doctor. They can provide you with a wealth of nutrition information. The caregivers who come as part of our in home senior care program and also provide more information. Your job is to make sure you read the nutrition labels carefully as not all foods are as healthy as they would have you believe.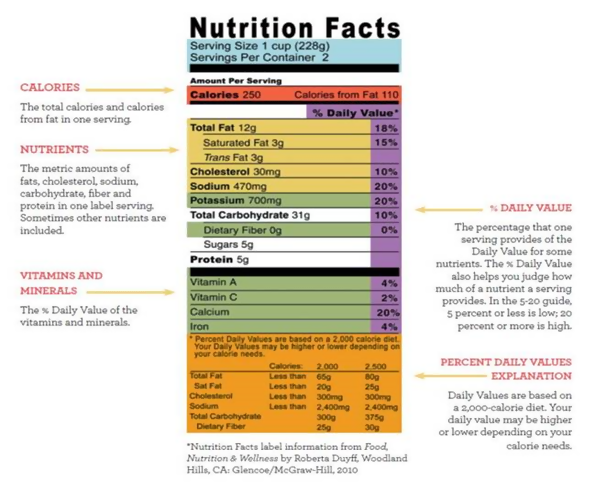 Image provided by the National Council On Aging
Let Your Loved One Have Their Treats
While your loved one needs to be eating a healthy diet regularly, there is no reason they can't have a few treats along the way. Just be sure you find healthier ways to make them such as cutting down on fats and sugars.
Contact Us
Making sure your elderly loved one get the senior nutrition they need can be difficult. Our senior care providers have the skills and training needed to help make sure it happens. For more information, contact Comfort Keepers of Herndon, VA at (703) 424-9519 and let us schedule your free care consultation with one of our senior care advisors.