Respite Care in Houston, TX and Surrounding Areas
Comfort Keepers helps to provide family caregivers with a much-deserved break to rest and re-energize.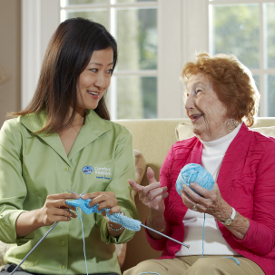 For family caregivers, caring for an aging family member can be a great way to reconnect and bond. However, caregiving is a full-time responsibility that, when combined with work responsibilities and caring for other family members, can leave you feeling exhausted.
When you are not feeling your best, physically and emotionally, you may find that you are less effective at providing the quality of care that your loved one needs and deserves. At Comfort Keepers®, we know that family caregivers may need assistance from time to time. Our respite care services are designed to provide family caregivers a break from their care responsibilities to help them recharge, relax or even just take some time to complete important errands.
What is Respite Care?
Respite care is a service that allows family and unpaid caregivers an opportunity to leave their home, knowing that their loved one is in capable hands. Breaks provided by respite care help caregivers to rest and recharge emotionally and physically before returning to their primary caregiving responsibilities.
TO CONTACT US: CALL (713) 974-6920 OR INQUIRE BELOW
Comfort Keepers Respite Care Services
With respite care services from Comfort Keepers, family caregivers can leave their home and their family member knowing that a professional and well-trained member of our staff will provide quality, reliable care. Respite care services are designed to allow family caregivers to:
Catch up on sleep
Run errands without interruption
Go shopping for groceries or even new clothes
Visit their own doctor or dentist for a routine appointment
Spend time with family and friends outside of the home

Our flexible respite care services allow family caregivers to schedule Comfort Keepers for whatever amount of time is needed. This could be a few hours each week or it could include 24-hour care for longer trips out of town, including weddings, college move-in weekends, day trips or even family vacation.