24 Hour Home Care For Seniors in Columbia, SC
Learn the differences between 24 hour live-in care and 24 hour home care for seniors and see what option is better for your family
When it comes to 24 hour home care for seniors, there can be many reasons why a loved one may require around-the-clock attention. Sometimes a senior may find themselves battling an illness; other times they may be recovering from a serious accident.  For those with dementia or Alzheimer's, issues with wandering or other unsafe behavior may warrant this assistance until other safety measures can be put into place, such as pressure mats and door alarms. Respite care services for primary caregivers can also be another reason. Whatever yours may be, it is important to note the overall differences between 24 hour live-in care and simple 24 hour care.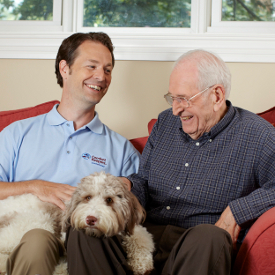 What Option Is Best For Me?
When it comes to 24 hour home care for seniors there are different options to choose from, but what is the best for your family?  At Comfort Keepers, we can help you take a look at the exact needs you and your loved ones have, and create a custom plan that includes services to meet them.  It all starts with a free in-home care consultation from our specialists.
24 Hour Live In Care
Also known as live-in senior care, these services involve a certified caregiver staying in you or your loved ones home.  Any home care for seniors that is performed is done so during the daylight hours, and the caregiver is given a small break in the middle of the day as well as time off at night to sleep.  While your loved ones care provider may be 'off duty', they are still able to be there immediately in the event of an emergency.  Families are responsible for providing the caregiver with their own room and bed to sleep in.
24 Hour Home Care
When it comes to 24 hour home care for seniors, a whole team of certified caregivers will be set up to help your loved one in shifts.  Essential tasks for daily living are completed during the morning, afternoon, and evening hours.  Then, as your senior sleeps, an alert an awake home health aide is there to always keep a watchful eye.
No matter what your unique care situation is, our experts at Comfort Keepers in Columbia, SC, are here to come up with a personalized solution for you and your loved ones.  If you feel may need 24 hour home care for seniors in your family, contact us today at (803) 462-1808.
Comfort Keepers In Home Care proudly provides senior care services in the following communities of South Carolina:
Blythewood, Cades, Cassatt, Cayce, Columbia, Coward, Dalzell, Darlington, Dentsville, Eastover, Effingham, Elgin, Elliott, Florence, Hartsville, Horatio, Lake City, Lamar, Lexington, Lugoff, Lydia, Lynchburg, Mayesville, Olanta, Pinewood, Rembert, Shaw Air Force Base, Sumter, Timmonsville, Turbeville, Washington, and Wedgefield