Providing Home Care For Seniors in Fargo, ND and the Surrounding Area Since 2004
We support and encourage a senior's desire to live an independent lifestyle in the safety, privacy, and comfort of their own home. This is why Comfort Keepers serving Fargo, ND offers a variety of home care services that are customized for each client. No matter your needs, whether it is for part-time, full-time or 24 hour care, our caregivers can accommodate them.
---
Memory Care in Fargo, ND and surrounding areas
When you are thinking of options for your loved ones with memory issues, home care should be your first choice. Our Comfort Keepers are specially trained to care for people with Alzheimer's and Dementia. Give us a call at (701) 237-0004 or fill out our free form to learn more!
---
Our Home Care Services
Our home care services in the home allow seniors to get the assistance they need to live happily, healthy, and safely, while remaining in the home they love. Through Interactive Caregiving, our unique approach to caregiving, we keep seniors active and engaged to support a happy and healthy lifestyle- often leading to longer lives for our clients. We are proud to provide care to seniors when and where they need it, whether it is primary care in the home, or supporting the care of a facility, nursing home or primary caregiver. Some of our services include:
Personal Care/Housekeeping - This service includes bathing and grooming, incontinence and toileting, transferring and positioning, feeding and a special diet, and mobility assistance.
Transitioning Care - Comfort Keepers can help your loved one with their journey back home and to good health. Often times, family caregivers are ill prepared or not properly trained for after surgery care, which can lead to a longer recovery time.
Alzheimer's & Dementia Care - At Comfort Keepers, we have specially trained caregivers to help your loved one who may have dementia or Alzheimer's. It doesn't matter if they are at the earlier stages or more progressed, we are here to help!
End of Life Care - This care services is if your senior loved one has been diagnosed with limited life expectancy. We are here to take over all their personal care needs, while you get to spend time with your loved one without worrying. The caregiver will also help out after their passing to help with grieving and organizing personals.
Respite Care - Assistance for the family caregiver as well as the elderly loved one
Private Duty Nursing - A specially trained Comfort Keepers home health nurse can provide a care plan for your loved one whether it is just a few hours a day or around the clock.
---
A History Of Helping Seniors Thrive

Proudly serving the Fargo/Moorhead and Grand Forks areas for the past 15 years, Comfort Keepers of Fargo, ND provides a variety of in home care services including daily activities that keep seniors active and healthy. We focus on matching the right caregiver to fit your loved one's personality and interests. Our goal is keeping our clients engaged and treating them like our own family with our personalized care.
---
NOT SURE WHAT CARE YOU MAY NEED?
If you find yourself wondering if your loved one may need some support to remain independent, or what home care services would be ideal for their care plan, complete our survey. We can help you take the first steps- from starting the conversation, to how to prepare for your first visit, and more.

Take a peek at what we have to offer to seniors by seeing how Jackie and Don plan their visits together! Elevating the human spirit involves interweaving love and joy into every moment.
---
Private Duty Certified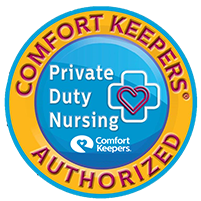 Often times seniors may need an extra set of hands around their home due to a medical condition. This condition is normally chronic and affects their ability to continue doing daily living tasks. While a caregiver can ensure their personal needs are met, it takes a certified LPN or RN to be able to assist them medically. We are proud to be a certified provider of private duty nursing services for seniors to support them with their medical equipment, therapies, medications, and more.
Find out more about how our team can assist you or your loved ones through quality home care, call Sue and Joel Peterson (701) 237-0004 to schedule a free care consultation.