Home Care For Seniors From Comfort Keepers In Warren, NJ
How Can home care from Comfort Keepers Help Your Loved One In Warren, NJ, maintain their independence?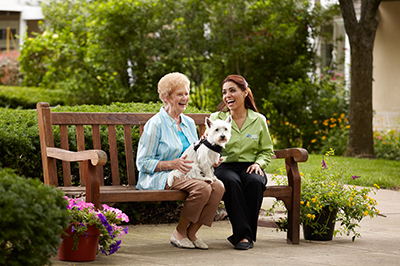 Comfort Keepers in Warren, NJ, is dedicated to providing outstanding home health care to seniors who need help taking care of themselves but do not want to relinquish their freedom and independence.
The CDC defines the term aging in place as "the ability to live in one's own home and community safely, independently, and comfortably, regardless of age, income, or ability level." Comfort Keepers takes that basic standard to a new level of in-depth care and companionship with senior care based on such services and philosophies as Interactive Caregiving.
We all want the best care, comfort, and support for our loved ones even as they age. And we all want to respect their desire for independence and freedom. But medical conditions and circumstances beyond our control can create a situation where help is needed.
If this is the case with you and your loved one, you will be happy to know that there is a solution: in-home care from Comfort Keepers.
Home Health Care and its Benefits
Regardless of your loved one's medical conditions or other daily care requirements, Comfort Keepers of Warren, NJ, provides all the support and assistance needed to lead an active, dignified life. This can be achieved through a number of ways. Our services include various types of care, including in-home care, respite care, dementia care, incidental transportation services and palliative care.
Comfort Keepers provides home care in the privacy of a client's own home. Our professional caregivers have training and experience in providing senior care to ensure the activities of daily living. These self-care activities, or things we normally do each day, can include a variety of tasks from bathing and grooming to homemaking and leisure. The caregivers at Comfort Keepers are experts when it comes to companionship and senior care. As with all our services, Comfort Keepers seeks to maintain the highest level of personal dignity and respect for every client at all times.
These services can be broken up into two primary categories: Personal Care Services and In-Home Companionship and Care Services.
The Personal Care Services Provided are:
Bathing, Grooming, and Hygiene
Mobility Assistance
Transferring and Positioning
Toileting and Incontinence Care
Feeding and Special Diet
The In-Home Companionship Services are:
Meal Preparation
Laundry
Light Housekeeping
Grocery Shopping/Errands
Incidental Transportation
Medication Reminders
24-Hour Care
For a more detailed look at each service provided, visit our in-home care services page.
Proudly Serving the Warren, NJ, Area
In a town voted the best place to live in Central New Jersey in 2013, Comfort Keepers® is proud to provide the most compassionate and professional in-home care to seniors throughout our community. When you are looking for assistance caring for a loved one in Warren, choose Comfort Keepers.
About Warren, NJ
The township, located in Somerset County, NJ, is home to more than 15,000 residents. Steadily growing in population since 1990, Warren is considered a great place to live full of open spaces and scenic farmland. While the rural backdrop makes for great view, the township is still located very close to New York city giving its residents the classic "best of both worlds" environment.
Warren was initially inhabited by the Lenape tribe of Native Americans, then settled in the 1720s by European farmers. Named after legendary Revolutionary War figure General Joseph Warren, it was incorporated as a township by New Jersey state legislature on March 5, 1806. By the beginning of the 20th century, it had become a getaway destination for wealthy residents looking to leave the hustle bustle of nearby New York.
According to 2010 Census Bureau statistics, the median age of a Warren resident is just under 44 years, with 13.4% of the population being aged 65 or older. Both of these statistics rose from the 2000 census where the median age was 39 years and only 11.2% of the population was aged 65 or older. This trend suggests that scenic Warren is a community that has an increasing need for Senior Care.
Comfort Keepers in Warren: Home Care that Comes to You
Realizing that the open space and rural farmland is Warren's iconic feature, Comfort Keepers does its best to provide home health care directly to you. Our caregivers work around your schedule, creating a custom plan suited to your needs and delivered to your doorstep.
What makes Comfort Keepers unique is that we are completely person-oriented, meaning we will not only create an optimal in-home care plan for your loved one but also make sure that they are living a meaning and fulfilled life.
By putting an equal emphasis on your parent or grandparent's physical, mental, and emotional well-being, in-home care nurtures every aspect of their being, prompting them to take better care of themselves and engage in the world around them.
Knowing that the mass transit situation means the nearest train station is not in the township, Comfort Keepers in Warren will drive to deliver the care – possibly even with the aid Carla the Car. Our path will start with Route 78 and then branch off throughout the township as we find your home with ease.
In order for your loved one to be as independent as possible, we also provide safe, reliable transportation services. Our Comfort Keepers can accompany them to one of the many beautiful places in Warren, NJ, including one of its calming parks or nature trails.
If they would like to visit the Wagner Farm Arboretum to enjoy nature or learn more about raising environmental awareness, their care provider will gladly explore it with them.
Our caregivers are available to accompany your loved one to a doctor's appointment or for frozen yogurt. Wherever your family member needs to go, our caregivers will get him or her there safely and efficiently.
---
Testimonial
Comfort Keepers in Warren, NJ

"I am very pleased that I chose Comfort Keepers. Their commitment to client care and integrity of their staff make families of loved ones completely at ease knowing that they are being looked after the way a family member would look after them. In essence, I am happy to say that Comfort Keepers are our in-home care provider."
Westfield, NJ - Rhonda G.
Caregiver Jobs in Warren, NJ
You may also find yourself wondering if a career as a Comfort Keeper is right for you. Perhaps you even pulled out your phone and said to it, "Ok, Google, are there any caregiver jobs near me?"
If you have a caring, loving spirit and like to take an active role in helping others, you possess the two primary characteristics essential to being an in-home caregiver. Comfort Keepers in Warren, NJ, is proud to offer:
Competitive wages
Ongoing growth opportunities
Flexible shifts and schedules
Opportunities to work near your home
Additionally, because Comfort Keepers® is a Sodexo brand, you're part of a Fortune 500 Company with endless opportunities. You'll work with a local Comfort Keepers office and reap the benefits of making a local impact while being a part of something bigger.
In Home Care FAQ
Finally, we've compiled a short list of frequently asked questions to give you further information on what in-home care services in Warren, NJ, will provide:
What is home care and how does it differ from home health care?
In its truest meaning, home care refers to any type of care (medical or non-medical) provided to a person while in that person's home. However, there is a more precise differentiation being used today. Home care now often refers to non-medical care and services, while home health care relates to the provision of skilled nursing care.
What services does Comfort Keepers® in Warren, NJ, provide?
Comfort Keepers provides home care, which includes companionship services such as meal preparation, laundry, light housekeeping, grocery shopping/errands, incidental transportation, medication reminders, grooming, live-in service and respite care. We also provide personal care services such as bathing, grooming, and hygiene, mobility assistance, transferring and positioning, toileting and incontinence and feeding/special diet assistance. We also provide Dementia/Alzheimer's care and in-home safety technology solutions.
Are services available 24 hours, 7 days a week?
Yes. Services are available for as little as a few hours a visit up to 24 hours, 7 days a week, 365 days a year.
How are Comfort Keepers® selected?
We strive to hire the very best caregivers to become Comfort Keepers because we only hire people we would want to care for a member of our own family. Each caregiver, special people we call Comfort Keepers, is an employee who is carefully screened and trained before caring for a client. Each must undergo a rigorous process including national and local criminal background checks, DMV, and personal and professional reference checks. All Comfort Keepers are bonded, insured, and covered by Workers' Compensation insurance for our clients' peace-of-mind.
Will I have the same Comfort Keeper all the time? How will I meet my Comfort Keeper?
During the initial conversation and the in-home visit, the Client Care Coordinator will document the services required and the client's preferences for a Comfort Keeper match. Then, the Client Care Coordinator selects the best caregiver fit for the client and will arrange an introduction between the client, Comfort Keeper, and Coordinator to introduce each member of this new team. During that meeting, all of the involved parties review the Plan of Care to ensure that everyone agrees and understands what services are to be provided.
What if my Comfort Keeper is sick or on vacation?
Each Comfort Keepers office employs a team of caregivers so that your care service will not be interrupted if someone gets sick or goes on vacation. If your Comfort Keeper is unavailable, the Client Care Coordinator will arrange another caregiver and will contact you in advance of the change. The Client Care Coordinator will also introduce the interim caregiver to you and review your Plan of Care with the interim caregiver prior to service. Our goal is to ensure that services are provided as expected. Your safety and security are a top priority.