Comfort Keepers Proudly Serves Springfield, NJ with Home Health Services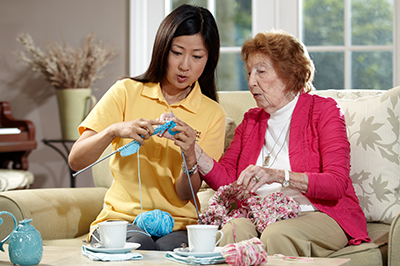 Our team is proud to work in the historic Springfield Community and the surrounding areas of Union County, New Jersey. Our skilled caregivers live in and provide services to Springfield township that go above and beyond tending to the immediate health concerns of the individual:
Emotional Support and Companionship
Keeping your loved one in their daily routine
Assistance with safely getting to the store, in and out of the car, and into and out bed
Light tidying and general housekeeping chores
Help with cooking, and meal preparation
Help maintaining a schedule, avoiding missed appointments
Going on walks and being an exercise partner as appropriate
Facilitating social interactions and family visits
Acting as a liaison for the family
Home Health Services in Springfield, NJ
If there are medical needs, Comfort Keepers of Warren, NJ also hires medical professionals who provide specialized home health services, in an equally caring, compassionate, and holistic way. Our Licensed Practical Nurses (LPNs) and Registered Nurses (RNs) don't just dispense medications, they also work with families to create strategies appropriate for the individual to make it easy to take medication correctly and on time. Our caregivers are experts at proficiently and kindly administering medications, including oral, topical, eye and ear drops, injections, inhalants, nebulizers, and others. Home health services can also range from helping with personal care items that can have a health implication, like including nail trimming, oral suctioning, and bowel supervision to handling the many complicated aspects of proper diabetic care, including filling insulin syringes, and interpreting glucose counts. Our goal is to provide a unique level of care allowing the for senior that blends medical proficiency, when needed, with companion services in the home setting.
Our team lives and works in Union County. We are proud to work with everything from small townships in the community to bustling areas in the outer New York Metro Area. Contact us to learn more about home health services in Springfield, NJ.
Sarah R. Reviews Comfort Keepers

" Putting my elderly father in a home was never an option even though it seemed like that would be the least stressful option for my sisters and I to make, since we all had our own families, lives and full-time jobs. Looking into Comfort Keepers was the best decision we have ever made because they did a better job than a home could ever do with giving care, while being personal and friendly at the same time."