Comfort Keepers Provides Senior Care To Scotch Plains, NJ
Learn more about how your loved one can benefit from senior care in Scotch Plains, NJ.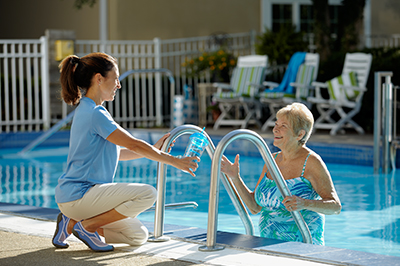 If your parent or grandparent needs senior care assistance in Scotch Plains, NJ, they are in luck as Comfort Keepers offers their internationally recognized services to the elderly living in Union, Middlesex and Somerset Counties. Our aim is to meet the unique needs of every senior, meaning that all our services are fully customizable to fit your loved one's requirements. We take into consideration various factors before proposing a plan for your parent or grandparent, closely working with their medical team to make sure that the care we provide is in accordance with their doctors' recommendations and guidelines.
In addition to assisting your loved one with daily activities, our senior care providers strive to include as much social and physical activity into your parent or grandparent's routine as their age, health, and mobility permit. This approach, based on the notion that seniors stay healthy and vital longer if they work out and engage in social activities on a regular basis, is an important part of our Interactive Caregiving philosophy.
Consequently, Comfort Keepers do not only provide help and assistance with routine tasks and running errands but also encourage seniors to exercise, lead an active social life, give back to their community, and work on improving their knowledge and skills. One of the goals of senior care is to engage the entire person, ensuring that your parent or grandparent is satisfied with every aspect of their life.
Our care providers will always put your loved one's safety and well-being first, making certain that they feel comfortable while working out, taking part in activities that make them happy, and spending time outside their home. We also incorporate transportation in our senior care services, driving your parent or grandparent to and from any location in Scotch Plains, NJ, and the surrounding areas. If your loved one wants to go for a casual walk through the neighborhood, dine at one of the many local restaurants or just go grocery shopping, our Comfort Keepers will accompany them and make sure they arrive and return safely.
If you would like to know more about the services we offer to seniors in Scotch Plains, NJ and the surrounding areas, you are welcome to contact us.
Tracy Reviews Comfort Keepers

"My mom loved her caregiver! She said she was more of a friend to her than someone who took care of her which is so important because my mom was worried about a stranger taking care of her. "