Top Senior Care Provided in the Greater Reno, NV Region
Our caregivers provide many senior care services for you and your family to benefit from in Reno, Sparks, Carson City, Incline Village and the nearby cities in Nevada.
Customized Care Plans
Create a care plan that your senior needs and will benefit from. At Comfort Keepers, our services are fully customizable to fit your senior's unique needs and build with our Interactive Caregiving services. If a loved one has been having challenges, like daily tasks and self-care, our caregivers can help. We want you to rest easy knowing that your mom, dad, or grandparents are in good hands. Let us know what your senior needs, and we will work to create a home care plan to match their schedule and wants.
Quality Solutions
Our Comfort Keepers' caregivers provide a wide range of services for seniors to choose from. Our senior care services cover personal care and companionship to relieve any loneliness that may come from physical and social isolation. Our services can go along with opportunities such as taking a walk at the park, giving a ride to doctor's appointments or social events, cooking and preparing meals together, and more. Take a look at some of our in-home care and specialized care services:
---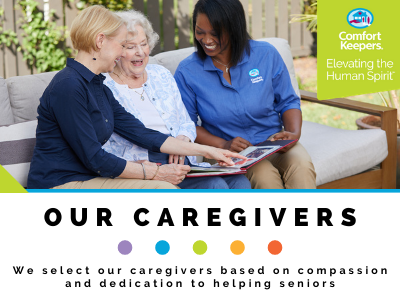 Our caretakers highlight the importance of physical, mental, social, and emotional health with our services. From giving medication reminders and making sure your senior is eating healthy meals, our caregivers will also play games with them for social and mental stimulation or have meaningful conversations to connect and pass the time enjoyably. Comfort Keepers balances the needs of your seniors with their personal preferences and enjoyment. We want your loved ones to remain comfortably and independently in their home with the help of our services. Please let us know how we can begin assisting you right away.
---
Contact Comfort Keepers in Reno, NV
Contact our caregivers and talented team at Comfort Keepers at (775) 210-5944. If your loved one requires help with daily tasks, getting around, and more, our caregivers are only one call away to meet and start creating your senior care plan today.