Alzheimer's and Dementia Care in Woodbury, MN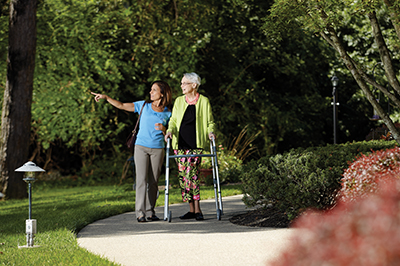 Caring for a loved one who is suffering from Alzheimer's disease or any form of dementia can be very painful and demanding. With outside assistance, the primary caregiver will end up stressed and with depleted energy if not given time off from these duties. Comfort Keepers of Woodbury, MN can offer assistance for varied amounts of time, whether just a few hours a day to 24 hour care, they are there for you.
Our professional caregivers in Woodbury, MN are able to give regular assistance for the long or short term needs of Woodbury, MN seniors. Scheduling can be done to the benefit of the client and their family. Each caregiver serves those in their care with basic care such as transportation, mobility, meal preparation, and other household chores. If your loved one needs more in-depth home nursing care, Comfort Keepers' excellent caregivers are able to follow through with these difficult tasks. Keeping your senior in a safe home environment is of utmost importance to them.
We understand the changing behaviors dementia and Alzheimer's disease brings to the elder family member and can help communicate these to you. Our caregivers provide daily care and at the same time let the senior accomplish the tasks or hobbies they can still maintain and enjoy. When the typical memory loss affects your loved one and family they will be there to support all of those touched by this devastating symptom. When your family member is no longer able to complete certain things that were once familiar and pleasurable for them to do, their sensitive and caring staff know how to handle the frustrations they feel.
If moving your dementia challenged elder into a nursing facility is not a desired option, Comfort Keepers of Woodbury, MN can be there to alleviate your fears. The crucial care your loved one needs is within your grasp. Just call us today and see how we can help you.