Chaska, MN
Richfield, MN
Lilydale, MN
Savage, MN
Montgomery, MN
Rosemount, MN
Red Wing, MN
Le Center, MN
Lakeville, MN
South St. Paul, MN
Victoria, MN
Dakota County, MN
Belle Plaine, MN
Apple Valley, MN
Burnsville, MN
Cannon Falls, MN
Bloomington, MN
Sunfish Lake, MN
Fort Snelling, MN
West St. Paul, MN
Hennepin County, MN
New Prague, MN
Mendota Heights, MN
Farmington, MN
Hastings, MN
St. Paul, MN
Prior Lake, MN
Eagan, MN
Carver, MN
Elko New Market, MN
Le Sueur, MN
East Bloomington, MN
Lonsdale, MN
Jordan, MN
St. Paul Park, MN
Waconia, MN
Inver Grove Heights, MN
Comfort Keepers is a Leading Provider of In Home Senior Care and Alzheimer's Care in Lilydale, MN and the Surrounding Area
Talking to a loved one about care can be challenging. We can help! Comfort Keepers provides compassionate in-home senior care in Lilydale, MN and the surrounding area.
Call our team today to learn more about Comfort Keepers in-home care in Lilydale, MN. (651) 371-5882
(Service Zip Codes: 55118)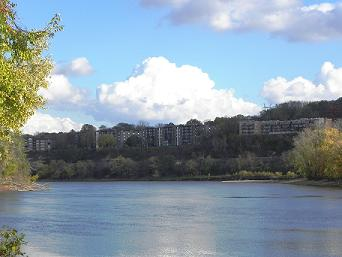 Beginning the conversation about living assistance with a senior can be a difficult feat, as most aging adults want to cling onto their independence. However, family members who realize that it is time for in-home care, as they notice certain idiosyncrasies in the behavior of aging adults should consider discussing it with their loved ones.
When discussing in-home senior care in Lilydale, MN with aging seniors, begin the process early, in order to allow the concept of care to sink in. In most cases, discussing the need for living assistance will take numerous conversations in order to convince aging seniors that it is the best option for them. Family members who are patient and realize that most aging seniors don't want someone else to be in their house with them should be willing to listen to their concerns.
Discussing Options for Senior Care in Lilydale, MN
Choose a good time and location to discuss the benefits of senior care in Lilydale, MN with an aging senior. Ideally, talk about care with aging loved ones during a relaxing time and avoid doing so on special occasions. When discussing care, appeal to aging seniors by discussing how it is beneficial to them. In addition, discuss the alternative, living in a nursing home, that most aging seniors would likely despise.
Encourage other family members to participate in the conversation in order to have a discussion that has multiple points of views. If multiple family members all believe that an aging loved one requires in-home care services, the chances are high that an aging senior will eventually agree. In many cases, aging seniors understand that they require help, but don't want to accept this fact.
When discussing in home senior care options in Lilydale, MN focus on the advantages that they will gain from the experience. Especially focus on the fact that aging seniors will be able to remain in the comfort of their home, and won't be required to move into a retirement community. Also, focus on the services that a caregiver from Comfort Keepers provides, especially transportation around the community. With this service, caregivers will be able to take aging adults to Lilydale Regional Park and other desirable locations and Lilydale, MN.
In-Home Care is a Great Option
Realize that the first conversation about senior care is going to be difficult, as family members are likely to be met with resistance from aging seniors who prefer to live alone. All in all, in home care is often the best option for aging seniors in order to keep them safe, assist with responsibilities, and provide companionship.
The Leading Provider of Alzheimer's Care in Lilydale, MN
Dealing with an Alzheimer's or Dementia diagnosis can be an emotional time for both a senior and their families. Comfort Keepers is a leading provider of Dementia and Alzheimer's Care in Lilydale, MN and the surrounding area. Our team can provide the in-home senior care solution that a senior, suffering from Alzheimer's or another form of Dementia, needs to remain in the comfort of their own Lilydale, MN home. We have provided Alzheimer's care in Lilydale, MN for over 10 years, and have worked with many seniors with unique needs.
Family members who want to learn more about Comfort Keepers in-home care can call the team directly at (651) 371-5882.
Lilydale Zip Codes Served: