Add Nutritional Support Your Senior In Home Care Plan in Jacksonville, FL
Senior nutrition is a very important part of our care options
Growing older comes with its own share of problems, one of which is learning that there are limitations on a person's abilities to handle daily tasks.
No matter what else happens, no senior should ever have to go hungry!
One issue many seniors face is no longer being able to prepare nutritious meals, leaving them with no alternative but processed foods of little nutritional value.
Here at Comfort Keepers of Jacksonville, FL we offer senior in home care that includes a professional caregiver who has received significant training in senior nutrition.
Give us a call at (904) 337-6039 to learn more!
Is Senior Nutrition Important?
Part of growing older is slowing down both physically and mentally, there is often a decrease in sensitivity, appetite, and a reduction in the body's ability to produce the many nutrients we need.  
As part of growing older, many seniors:
Might find their body becomes slower at absorbing outside nutrients
Notice changes in their sense of taste
Start to see a decrease in appetite
Might find their body becomes slower at producing natural nutrients
Without the proper nutrients, seniors tend to suffer from more illness, diseases, loss of mobility, broken bones, and take much longer to heal.
Senior Care That Makes a Difference
At Comfort Keepers, we like to think of our caregivers as the champions of senior nutrition in our senior in home care program. Each is skilled at preparing nutritious, delicious meals that meet any medical or religious needs and of course personal preference to ensure your loved one eats a healthy diet.
Our caregivers make a difference in your loved one's life by:
Helping to plan meals – part of our in home senior care program includes a caregiver who will work with you, your loved, and if necessary their medical care team to develop a healthy meal plan.
Helping with shopping – your loved one's caregiver can take your loved one on shopping trips and help with the shopping or they can take the shopping list along with any coupons and do the shopping for them.
Cooking daily meals – one of the biggest problems faced by seniors when it comes to making meals is trying to cut, chop, and peel the vegetables (despite the fact this can be very good for their hands and minds) or handle heavier pots and pans. Our caregivers can help with the cooking, swap favorite recipes, do all the cooking and of course clean up.
Helping your loved one to eat – if your loved one suffers from an illness, disease, or injury that makes it difficult for them to eat, our senior care providers can assist in such a way as to not cause embarrassment.
Eating Healthy Costs Money
For seniors who live on a fixed income, the cost of eating healthy can be too much for them to handle. Sadly, it's cheaper to buy processed, frozen, and heat-n-eat foods. The problem – these have almost no real nutritional value. This can lead to spending more on supplements, prescription medications, and visits to the doctor than it would cost to eat healthy foods.
The good news – there are many local, state, and federal programs that can help. Some, like Meals on Wheels delivers hot meals daily and can also deliver ready to heat meals that can be eaten later.
These agencies include:
Be sure you visit https://www.benefitscheckup.org/ to learn more about the many benefits available to your loved one.
Other ways you can help your loved one include:
Make a shopping list and stick to it
Choosing fresh food options first
Keeping foods stored in the fridge or freezer to extend their lives
Comparing food labels, just because an item costs more doesn't make it better!
Looking for deals at the supermarket and comparing them to those at the farmer's market
Planting a garden of fruits and vegetables
Buying foods that are in season
Watching for sales and coupons
While seniors do typically require fewer calories, they still need to eat healthy well-balanced meals. Without this, your loved one could quickly succumb to malnutrition.
Their diets needs to include:
Whole Grain
Vegetables
Fruit
Protein/Fish
Low Fat Dairy
If you need more nutrition information, you can always talk to your loved one's doctor and our caregivers who have trained in senior nutrition as part of our senior in home care program. Another important job you have is to read the nutrition labels on everything you buy. Many foods are not as healthy as they claim to be.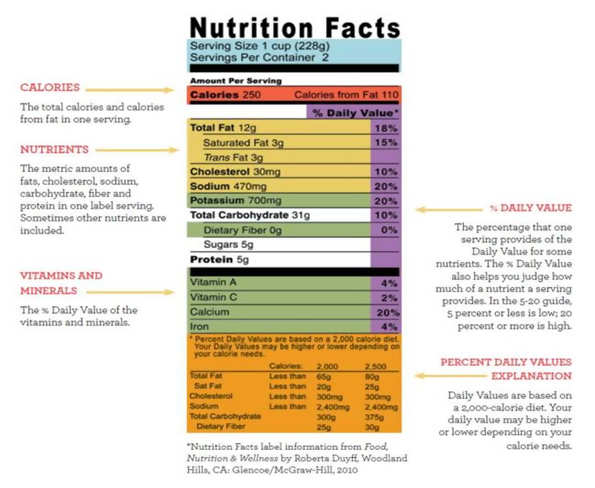 Image provided by the National Council On Aging
A Few Treats Are Not a Problem
The majority of your loved one's meals need to be nutritious, but this doesn't mean they can't have a treat from to time. The most important thing you can do is find ways to make them healthier such as less sugar and no fats.
Contact Us
If you would like to learn more about our senior in home care programs or our amazing senior care providers, please contact Comfort Keepers of Jacksonville, FL at (904) 337-6039 and schedule your appointment for a free care consultation with a senior nutrition advisor.