Keeping Seniors Safer at Home
At Comfort Keepers in Hollywood, we pride ourselves on the exceptional home care services we provide to seniors. With our full range of services, we can provide full home support for your loved ones while also keeping them healthy and safer in their own home. On top of our industry-leading care, we are now also taking steps to adapt our services to protect our clients during these times, and ensuring they have everything they need at home. Watch to learn more!
---
Uplifting Home Care for Seniors from Comfort Keepers of Hollywood, FL
Welcome to Comfort Keepers – your trusted provider of customized home care in Hollywood, Miami, and the surrounding areas
When a loved one requires professional home care to continue aging independently, choosing to work with Comfort Keepers may be an ideal solution. Our independently owned and operated Hollywood office can develop a customized care plan that will perfectly fit your loved one's lifestyle, schedule, and preferences.
Your mom or dad can receive the highest level of care and have all their needs met by a trained caregiver while your entire family can have peace of mind knowing your loved one can enjoy an elevated quality of life at home for years to come.
Multiple studies have proven that most older adults prefer to age in place, even when chronic conditions and age-related difficulties interfere with their ability to keep up with basic tasks of daily living. At Comfort Keepers, our mission is to provide exceptional service and ensure seniors we care for live healthier, safer, more fulfilling lives while maintaining their independence and comfort at home.
We do this by providing a plethora of home care services designed to address a wide range of care needs and scenarios. Our seasoned caregivers can assist your loved one with many activities of daily living such as housekeeping, grocery shopping, meal prep, mobility, personal care, transportation, and so much more.
Specialized home care
Even if your mom or dad is diagnosed with dementia, limited life expectancy, or struggles with an arising health issue, we can help. Our specialized home care services are geared towards providing a strong support system for seniors with advanced care needs. We offer compassionate dementia care, facilitate post-hospital recoveries, support families during the end-of-life transition, supplement care provided in facilities, and more.
Our approach to senior care
For years, Comfort Keepers has been an industry-leading name in the US. One of the main reasons we rose above our competitors is our special approach to home care known as Interactive Caregiving. This unique method, implemented in all care plans we deliver, is designed to promote overall wellness through engagement, companionship, and interaction.
When practicing Interactive Caregiving, our team members encourage seniors to lead an active lifestyle based on their personal interests. We prepare healthy meals together, play games, go for walks, reminisce, attend community events, and engage in other fun activities that make every day a little brighter for those we care for.
Contact Comfort Keepers Today
Get in touch with our Hollywood office to learn more about how we can help your loved one in Miami, Aventura, Hallandale Beach, and Bal Harbour, FL, and schedule your free consultation with our friendly client coordinators to get started.
---
Downloadable Brochures
NOT SURE WHAT CARE YOU MAY NEED?
If you have worried about your senior loved one living on their own, it might be time to consider home senior care. Begin the process by taking a short survey to help you better understand when the time has come to pursue care options.
We'll Give Your Family Peace of Mind
Comfort Keepers in Hollywood, FL, is different from most senior care providers because we have redefined how in-home senior care is provided. We've expanded the scope of what we can do for your loved one and your family. By giving you more home care service options, advanced technology, and a team care approach, we give you more peace of mind knowing that your loved one is under the best care.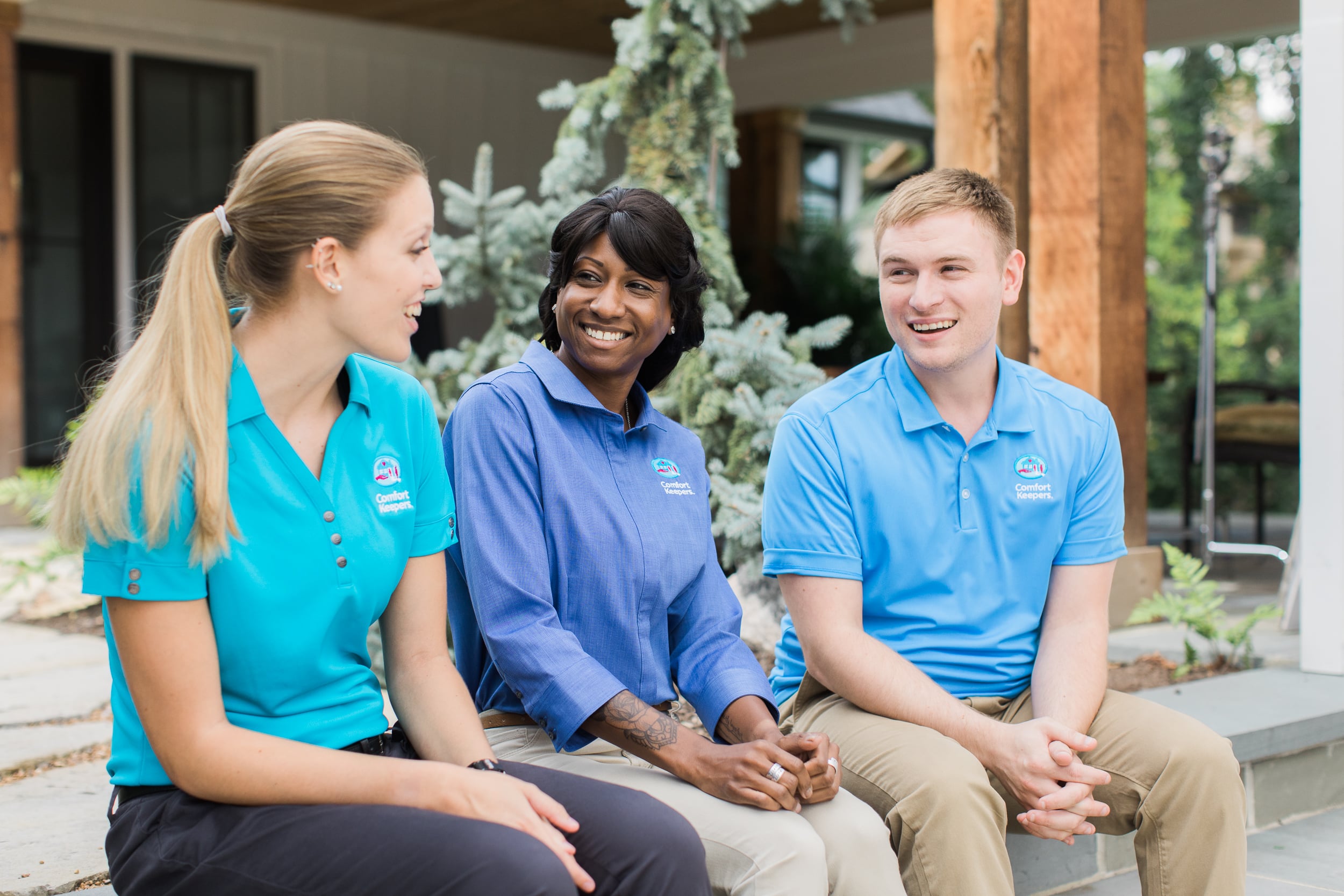 DO YOU HAVE A CARE TEAM?
Quality Care and Comfort of Life takes the right team.
In partnership with Stanford University, Comfort Keepers has released an innovative FAMILY CAREGIVER STUDY that explores the unique challenges involved in being a family caregiver and care coordinator.
The findings of the study overwhelmingly demonstrate the benefit of building a care team. Download the study for free to become an even better caregiver!
Set Up a Free Care Consultation Today
Learn more about the comprehensive senior care services of Comfort Keepers in Hollywood, FL, which range from taking care of your loved one to taking care of the home her or she loves. Explore how our professionally designed care assessment delivers a personalized care plan that best fits your loved one's life. Discover how we're leveraging advanced technology to keep your loved one safe and your family connected, including a virtual care assessment option for families!
Award-Winning Care You Can Trust in Hollywood, FL
If you would like to know more about Comfort Keepers home care services and how we can help your loved one, please call our Hollywood, FL, office today at (954) 289-1938. Our senior care team is available 24/7 to answer any question you might have and schedule a free care consultation with our friendly client care coordinators.
HHA License# 299992158
HCS Registration# 228495