Comfort Keepers Bradenton Provides 24 hour home care for seniors
Around-the-clock, 24 hour home care for seniors in Bradenton and the surrounding areas of Florida.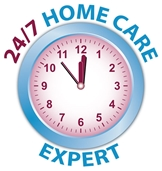 At Comfort Keepers Bradenton, we provide your loved one with the care they need to remain safely and independently in the comfort of their own homes. With our home care for seniors, we develop a unique care plan designed around a client's unique needs.
What is 24 hour home care?
With our 24 hour home care for seniors services, we provide care to our clients – seven days a week, twenty-four hours a day. Each care solution is custom-designed to fit the unique care needs of our clients. We work with clients to evaluate their needs and create a custom care plan that involves our wide range of care services that are provided. All care services provided by Comfort Keepers can be a part of part-time care or full-time care solution depending on the needs of the client. When providing 24 hour home care for seniors, we understand the severity of the care that is needed and know that their needs may change and we can adapt their care solution to fit those needs.
Would you like to know that your loved one is taking the right dosage of medications at the right time?
Do you worry that your loved one might wake up in the middle of the night and feel disoriented and confused?
Are you afraid that your loved one might accidentally injure themselves if they are unsupervised?
Are you able to care for your loved one through the recovery process after a procedure?
Is it important to you that your loved one knows that Bradenton, FL area?
Comfort Keepers Bradenton understands that if your loved one needs 24 hour home care that the situation is serious. We can help you analyze the needs, abilities, and personality of your loved one to determine the care solution that is best for them to remain safely in their home. We can coordinate care services and ensure that your loved one is getting the care they need by creating a caregiver schedule that allows your loved one to get the care they need when they need it.
We guarantee that we can provide your loved one with the care solution they need by only hiring caregivers that stand out above the rest and pass the "lovability test". Once hired, caregivers receive skills training on Alzheimer's care, CPR and first aid. Even after going through this initial training process, our caregivers receive continued education to ensure that your loved one is getting the best care possible.
We are confident that we will be able to provide you with the information that you need to make an informed decision about the care of your loved one. Please call us at (941) 220-6350 so that we can learn about your loved one's unique situation and determine the services they need.