Companion Care at Comfort Keepers in Durango, CO
We provide companion care to residents in Durango, CO, and the surrounding areas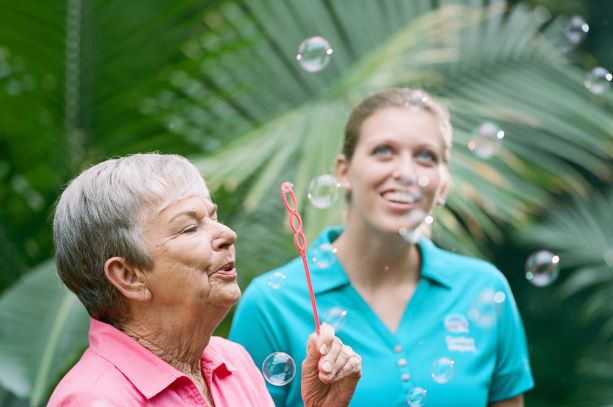 Living on your own is something that most of us take for granted in life, but for many seniors, the loss of their freedoms and independence is very serious. Age-related illnesses and disorders can prevent a senior from safely and comfortably living in their own homes. This is where the difficult conversation about nursing homes can leave a senior feeling helpless about being able to live in the comforts of their own home.
This is where our services come in and help seniors with that concern. Comfort Keepers of Durango specializes in customized and unique companion care services to older adults who need extra assistance to live safely and continue with a high quality of life at home. Here is how we do it.
Staying active with our caregivers
As seniors age staying active is important to maintain good health and happiness, Our home care providers will go out of their way to create activities your loved one can safely engage in.
Whether your parent enjoys spending time with their friends, looking at old photo albums, listening to music, watching old movies or talking about past and current events, our caregivers will help them stay active and find meaning and purpose in every day. With companion care from Comfort Keepers, you can rest assured that your loved ones will remain happy, safe, and active throughout their golden years.
The approach that makes all the difference
At Comfort Keepers, our clients come first. That means our care plans are built to meet your loved one's schedule and our caregivers will go out of their way not to disrupt their daily routines. However, our companion care is not just focused on meeting your loved one's physical needs and helping them with daily activities.
We understand that to live a fulfilled life, our emotional and social needs have to be met as well. Our unique Interactive Caregiving approach allows us to stimulate residents on every level. We will keep them active and engaged in their care and help them participate in activities that bring them joy.
We will also encourage your aging parents to exercise, solve puzzles, listen to music, and engage in other activities that can boost their mental and physical well-being and help them maintain their independence. Rest assured that our senior care providers will be there for your loved ones in their time of need and make their life easier as much as possible.
Our Many Specialized Senior Care Services
Whether your loved one needs a few hours of assistance per week, or they require 24/7 care, Comfort Keepers provides a full range of senior care services to meet their needs. This includes light housekeeping, laundry, meal preparation, companionship & emotional support, and local transportation. If your senior loved one requires to care about hygiene, toileting, or bathing, Comfort Keepers will ensure privacy and dignity are maintained during our care.
We also specialize in Dementia, Parkinson's, and Alzheimer's care, as well as respite services, end-of-life care, hospital-to-home transitioning, and more!
We want to provide only the best support, companion care, and customer service for you and your loved one. We know that each individual's situation is unique, and we think their care plan should be, too.
---
We Are Here to Help
Whether you help with meal preparation, laundry, and getting ready for bed, a ride to the local grocery store or pharmacy, somebody to share a day of paths and waterfalls at a nearby park, or a friend and companion to drink just a cup of coffee with, we can provide the care and support they need.
For more information about how Comfort Keepers can help your senior loved one maximize their independence, freedom, and overall quality of life while remaining in the comfort and convenience of their own home, give us a call at (970) 344-9717 or contact us online today!