The Caregiver's Guide to Preventing Senior Isolation
and How Comfort Keepers Can Help
Caring for a loved one, whether from a distance or in person, is so incredibly rewarding. Getting to support the wellbeing of your senior while bolstering your own happiness from getting to interact with and help them is truly the best of both worlds.
However, caring for someone in their older years requires one to develop a keen eye for trouble. One thing to be particularly cautious of is senior isolation.
What is Senior Isolation, and How Does it Happen?
This term is just as it sounds: a senior who isolates themselves. It may not sound like a big deal, but isolation can exacerbate health conditions, or lead to new diagnoses that may have otherwise been prevented.
Isolation can occur from a number of causes. Here are a few common ones:
Living alone
Strained relationships
Low income
Relatives that have passed/moved far away
No participation in social groups
Language barriers
Staying home due to health conditions and/or embarrassment
The Dangers of Isolation
Of the above-mentioned causes of isolation, all are likely to not only increase one's risk of loneliness, but also for dying at a younger age. In fact, in recent research, seniors that reported feeling lonely were 45% more likely to die sooner than those that did not report loneliness. Why is this the case?
Some of the top consequences to senior isolation and loneliness are: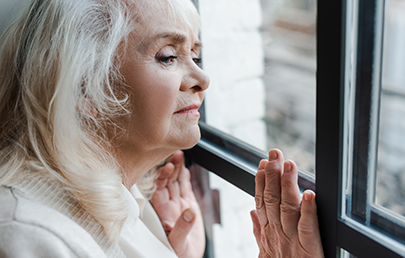 A Toll on Mental Health
The most obvious cause of senior isolation is loneliness and poor mental health. In lonely seniors, depression and anxiety are rampant. In some cases, suicidal thoughts may also occur.
If left untreated, poor mental health can cascade further and further. It's important to support your senior's mental wellbeing as an active part of your caregiving.
Poor Nutrition, Dehydration and Deficiencies
Speaking of cascades, more consequences to senior isolation are severe dehydration and malnutrition.
Maybe your senior's sense of taste has changed, which makes them sad or embarrassed, and so they start eating less and less. Because they don't eat, they may also forget about drinking water altogether. When they do get hungry, maybe they don't feel like preparing the food they have. Or, maybe they don't have any food left in their kitchen, but they don't want to leave the house to go to the grocery store.
Not eating can lead to deficiencies in important vitamins that prevent disease and keep your senior's bones, brain, and overall body strong and healthy. It can also encourage dehydration, which further weakens and debilitates your loved one.
This consequence is unarguably the most common one, because it happens to easily. Unfortunately, that doesn't make it any less dangerous.
Worsening Health
As mentioned, undereating can lead to vitamin deficiencies, which are an open invitation to making current diagnoses worse, and potentially creating new ones.
Along with this, if something as essential as eating food and drinking water goes out the window, so too does taking medications.
Safety Concerns
A senior living alone, especially in a house they've lived in for a long time, can be more unsafe than most people realize. Furniture that used to be stylish and comfortable may now be dangerous. That one flight of stairs that used to be a breeze to go up and down, is now a massive risk for trips and falls. Even the little details scattered through the house – dim lighting, throw rugs, or having the coffee mugs a shelf too high – can be recipes for disaster.
If an older person who lives alone falls, they may be unable to get back up or call for help if they can't. Not only that, but risk for premature mortality skyrockets due to secondary injuries that may occur – as well as their risk for falling again.
As can be seen, none of the above occur on their own circumstances – they're all intimately intertwined, which makes preventing isolation that much more important.
The Star Player: You, the Family Caregiver
Seeing a loved one suffer in any shape or form is heartbreaking, but intervening as soon as you can may make a huge difference in stopping (and maybe even reversing) any of the above issues.
Out of the many ways you can help, here are some of the most valuable:
Learning to Spot Isolation
Though these cues can be subtle, they're important to take note of. Someone who already isolates themselves can be pretty clever at hiding their problems, so it may require some tact on your part to uncover these issues.
If you live close, try visiting them more frequently – and occasionally, unannounced. Anything they're trying to hide will be in plain sight then, like rotten food, piles of unread mail and unpaid bills, poor hygiene, unopened medication bottles, and so on.
If you don't live close, coordinate with one of their neighbors to keep an eye on them. Even if it's just to see if your loved one has left the house at all that week, they're an extra set of eyes that will always be there to help you out.
When in doubt, you can always ask for help from first responders, too. They'll begin to notice patterns, like if your loved one has fallen multiple times in a short amount of time.
Normalizing Help
Do your best to, over time, explain to them (and show them) that asking for help is okay. Normalizing help will make them much less likely to isolate themselves and hide their problems, and instead, reach out to you or someone else to give them a hand.
This can also make it easier for them to accept you wanting to hire a caregiver.
If That Doesn't Work: Change Your Language
However, if the word "caregiver" angers or upsets them, try changing your language.
This can apply to your whole approach for caregiving. For example, instead of saying:
"Your caregiver will be here this afternoon to take you to the grocery store."
"You need to take your medication or your diabetes will get worse."
"You worry me."
Try reframing the same thoughts, in different words:
"Your friend Jessica wants to come visit and take you to buy some yummy groceries this afternoon!"
"I know how sick your diabetes can make you feel. Try taking this, you'll feel so much better!"
"I want you happy and healthy, and I know you want to be happy and healthy, too."
Your Most Powerful Tool: Memories
When all else fails, try to lighten the mood (for both you and them) by using memory activities to engage them. Pull out old photo albums, play old video tapes, or even talk about some of your favorite memories with them.
When they're in a better mood, or even while they're distracted by looking through old photos or listening to their favorite song, you'll have the opportunity to get some things done – washing the dishes, checking their mail, or maybe even running out to buy some groceries. If not, you still spent some quality time reminiscing with them, making them feel loved and appreciated.
Interactive Caregiving
Instead of doing things for them, try doing things with them. This can make all the difference in how they view certain tasks. For example, instead of grocery shopping for them, take them with you. Instead of cooking dinner for them, make them a part of the process. Instead of just washing their clothes, have them help you sort colors, or even fold. It may take longer or require more work from you, but it'll make them more likely to accept your help with things, and it's a great way to spend quality time together.
Even little efforts, like pretending to brush your teeth while they actually brush theirs or taking your vitamins while they take their medications, can encourage healthy habits for them.
Get Them Connected
This is especially important if you can't physically be there as often, or if you're sharing caregiving responsibilities with other people.
Getting your loved one a little more connected can greatly prevent isolation. If they don't have a cellphone, get them one and show them how to use it. Make them a Facebook account so they can connect to other relatives and friends more regularly. Even just encouraging others to contact them more frequently over the phone, video chat, or even writing letters can help show them they're loved, and that others are thinking of them. This will make them less lonely, and less likely to isolate themselves.
Need More Support? We've Got Your Back
The most successful caregivers are the ones who ask for help when they need it. At Comfort Keepers, we're here to support family caregivers in a wide variety of ways.
Some of the services we provide include:
Caregiving for when you have appointments/other duties of your own to attend to, or even when you just need an honest break!
Transportation, whether that be to get groceries, to appointments, or even just go for a walk in the park across town.
Respite care, which is just a fancy term for a break. This can be anywhere from just a few hours in the afternoon, to even overnight shifts.
Fall prevention, and helping make your loved one's home safer for them.
Memory care, including care for Alzheimer's disease and dementia.
Transition care, from the hospital or rehab back into their home.
Senior companionship, whether your loved one is at home, in the hospital, during dialysis appointments, and so forth.
For more of our services or how we can help you and your loved one's specific needs, call your local Comfort Keepers today!
References:
Comfort Keepers. "Customized In-Home Care Services and Solutions." N.d., https://www.comfortkeepers.com/care-services
Esposito, Lisa. "Healthy Aging: Preventing Isolation." U.S. News and World Report: Health. 14 August, 2015, https://health.usnews.com/health-news/patient-advice/articles/2015/08/14/healthy-aging-preventing-isolation
Health Resources and Services Administration. "The 'Loneliness Epidemic.'" January 2019, https://www.hrsa.gov/enews/past-issues/2019/january-17/loneliness-epidemic