Combating Loneliness in Your Loved One
and How Comfort Keepers Can Support You
Caring for a loved one requires you catering to all aspects of their health – both mental and physical. Unfortunately, the physical needs seem to take precedence, leaving seniors across the country with unmet needs cognitively and psychologically.
A rampant issue among America's older adults in particular is loneliness.
Why is loneliness so problematic for seniors?
Poor mental health and loneliness go hand-in-hand. While caregivers and healthcare providers are so focused on providing the physical care, although important, most don't realize that ignoring mental health needs can actually cause physical health problems.
Loneliness is often a common culprit of this, contributing towards ailments that plague most older adults, such as:
Sleep issues
Depression/anxiety, including suicidal thoughts
Eating disorders
Increased risk of chronic diseases, especially cardiovascular
What's worse, loneliness can do as much harm to a senior as smoking fifteen cigarettes a day. It's even more dangerous than obesity!
If you weren't convinced yet how serious loneliness is for our aging loved ones, here's the icing on the cake: approximately 43% of seniors feel lonely on a daily basis.
How Does Loneliness Happen?
Now that we understand the severity of loneliness, how does it happen, especially so frequently in older adults?
Here are some common causes:
Transportation
Driving in general, especially on busy roads or at night, becomes increasingly difficult with age. In many cases, seniors reach an age where they stop driving altogether.
This lack of independence radiates from the inside out. Not only does this loss of accessibility limit where a senior can go or when they can leave the house, but they physically feel this loss of independence.
They may become too embarrassed to ask for rides from friends or family, or are unaware of/uncomfortable with rideshare services that are becoming increasingly common in our society. Imagine how you would feel if you lost the ability to drive your own car whenever and wherever you liked.
Loved Ones Growing Up
As adult children move out of the house, get married, and have their own children, this often involves moving far away and less frequent contact with the parents. Life gets busy, and it's easy to get sucked into your own new life with raising kids, balancing work and a family life, and so forth.
Unfortunately, through this phase of life, many seniors first begin to feel true loneliness. While it's great to see your kids or relatives grow up and begin families of their own, a sense of feeling left behind may settle in and take root. This can spiral into deep feelings of abandonment and loneliness.
Losing Relatives
We hear these sad stories all of the time – "so and so had no living family left." No wonder these individuals feel lonely. Having all immediate family gone can make one feel like they've got no one to support them, let alone to just talk to.
Many seniors also experience losing their spouses at some point. This can be an earth-shattering ordeal, especially if the couple had been married for decades, shared children together, and were a part of each other's daily routines.
Declining Health
Going back to the comment on embarrassment, people with increasingly burdensome health issues may not want to leave the house for this very reason. Not only that, but having to carry around any medications/medical devices (oxygen tanks, wheelchairs, walkers, and so forth) may feel like more trouble than it's worth.
This leads to seniors isolating themselves, which can cause an even further decline in health.
Other Loss of Accessibility
Maybe your senior is fit as a fiddle, but their hearing or eyesight are beginning to get worse. This can make events they used to enjoy, like going out to eat (reading the menu), going to see a movie (hearing), or socializing in public in general more burdensome and, again, potentially embarrassing for them.
At the core of all of these causes of loneliness, common themes they share are:
Loss of a sense of purpose.
Feeling safe at home, and not wanting to leave the house.
Adversity to a change in routine.
What You Can Do to Help
Aging in place is wonderful in that a senior can remain in the comforts of their own home and receive the care and companionship they need there. However, for those that aren't being actively cared for, living alone at home can easily lead to isolation and loneliness.
There is, however, a golden ticket for healthy, successful aging in place: people like you! If you suspect your loved one is lonely or that they're isolating themselves, there are some things you can do to as their family caregiver to help.
Ensure Their Safety
First and foremost, aging in place cannot succeed in an unsafe environment! Household features like stairs, tile/linoleum, floor rugs, sharp furniture/counter corners, poor lighting, and so on can spell disaster in older age.
To increase comfort and safety, many seniors either end up downsizing their home or possessions, or renovate their current home to make it more accommodating. Do an inspection of your loved one's home and see what you can do to make it a safer space to be.
Make Sure They're Eating
The stereotype of cute grandmothers forcing food onto their visitors is in many cases only a stereotype. Many older adults experience changing taste buds and loss of appetite in their older years, making eating a less enjoyable experience.
Tying this back to safety, using sharp knives to prepare food or a hot stove/oven to cook can be highly unsafe for some seniors, or seems like just too much work.
We haven't even talked about the difficulties of grocery shopping, yet! As can be seen, there are a plethora of reasons that can cause seniors living alone to under-eat. This can lead to unwanted weight loss, severe dehydration, malnutrition, and higher risk of disease and mortality.
Look at the Big Picture
Health and safety aside, let's back up and assess the big picture. Are there larger issues in their life that need to be addressed as well, like their finances? What if they have pets to care for? How will the local weather affect them as it changes during the year?
While the safety and health of your loved one are of course important, so too are these other factors that tie into their everyday life.
Don't Add On to Their Stress
Questioning your senior about things they "need" to do, but they don't necessarily want to do, won't help them feel any less lonely. If anything, it may heighten it – they may feel like you can't empathize with what they're going through, and will thus isolate themselves even further.
Luckily, a simple change in approach can sometimes make all the difference. This is especially important for those with dementia or other cognitive ailments. One approach you can try is to ask less questions and offer options instead. This takes the pressure off of decision-making for them, without making them feel like they've lost their voice altogether.
For example, instead of, "What do you want for dinner?", you can instead ask, "What sounds better for dinner: grilled chicken or clam chowder?"
Do you live far away from your loved one? Are you too busy with work, kids, and so on to be an active caregiver in their life? A simple thing you can do is increase your frequency of communication with them. Call them once a week instead of once a month, teach them how to video chat, or maybe even make a Facebook account for them to get connected with other friends and family. It seems small, but these things can make all the difference in reducing your loved one's loneliness.
Remember That Happy Caregiver = Positive Caregiving
At the end of the day, a stressed, burnt-out caregiver cannot provide positive, effective care to a senior that needs it. During the entirety of your caregiving journey, make sure to tend to your own needs, too.
Comfort Keepers: Elevating the Human Spirit
This means knowing when you need to ask for help. Family caregivers make such a huge difference in the lives of our nation's seniors, but the toll caring for a close relative takes on them can sometimes be too much to handle alone.
Our professional caregivers and staff can support you and your loved one's goals for aging in place. Here's our advice for family caregivers in need of help, courtesy of Mary Bowman, Executive VP of Marketing Communications: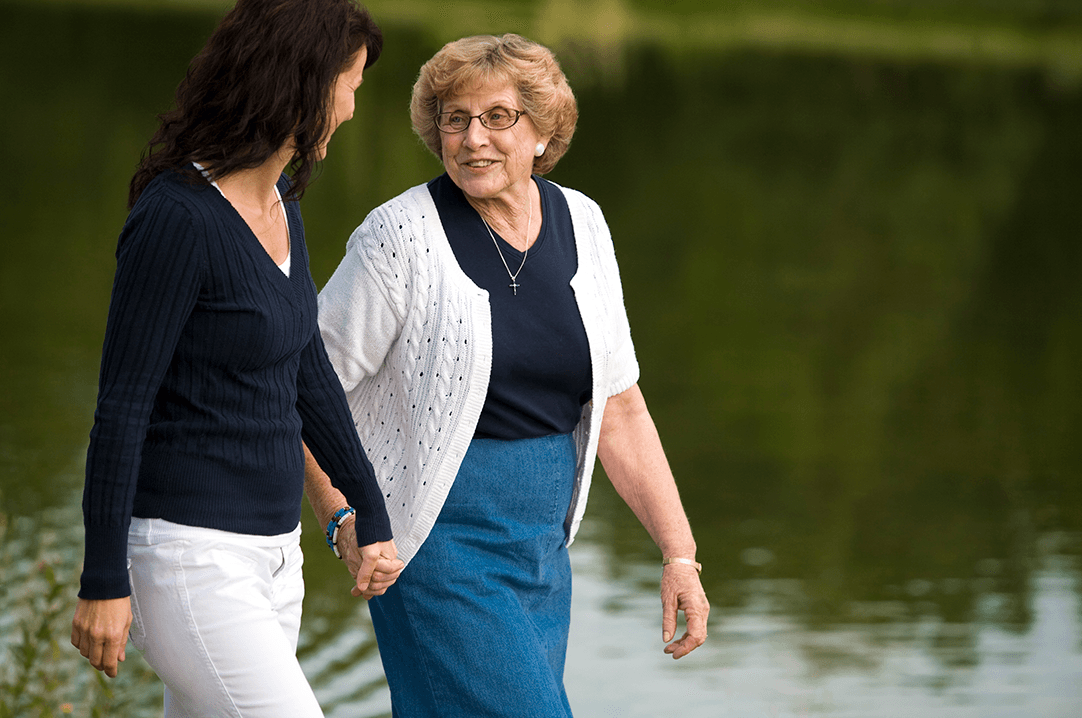 Start the Discussion
Bring up your concerns to your loved one's physician. Beginning a difficult conversation like this is half the battle!
Be Honest and Open
Share with them not only important health/safety/other observations you've made about your loved one, but also how you as their caregiver are feeling, and ways in which you would like to feel more supported.
Do Your Research
The Internet is your friend! There are countless resources on caregiving available with a simple search of the question you have, or a topic you're interested in. There are also many online support groups you can join to get honest feedback and support from other caregivers in the same boat as you.
Contact our office today – we can do this together!
References:
Brunet. "Loneliness among the elderly: preventing isolation." N.d., https://www.brunet.ca/en/health/health-tips/loneliness-among-the-elderly-preventing-isolation/
Health Resources and Services Administration. "The 'Loneliness Epidemic.'" January 2019, https://www.hrsa.gov/enews/past-issues/2019/january-17/loneliness-epidemic