Bristow, VA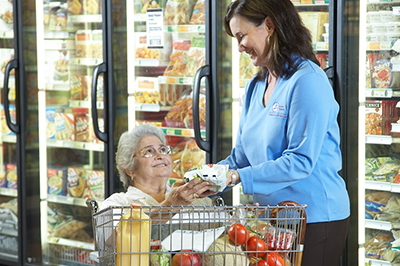 Caregiver Helping Senior Grocery ShopWith Comfort Keepers® just around the corner in Bristow, VA, your aging loved ones no longer have to worry about where their care will come from next. We will work with them to figure out which plane of care is the most appropriate, whether they require just a few hours of companionship or long term, around-the clock personal care. Our skilled caregivers – called Comfort Keepers® – are dedicate to providing your loved ones with a sense of peace, safety, and independence so they can remain in the comforts of home.
At Comfort Keepers, we also want seniors to know that they can continue to stay involved in the Bristow community, at whatever level they desire. For this reason, Comfort Keepers provide safe, reliable transportation to your loved ones' favorite locations around town.
If they need to grab a few items for the week at Harris Teeter, or if they need to attend Chapel Springs Church on a Saturday evening or Sunday morning, we'll make sure that your loved ones have a way to get there safely and on time. Our goal is to help seniors maintain or restore their independence, whether that's in the home or in the community.
We also specialize in providing in-home care for those that have bravely served our country in times of need. We feel that it is our duty to help those who have selflessly given so much for others to live freely. For more information on Veteran's Care, click here.
Comfort Keepers is ready to provide quality in-home care for your loved ones in Bristow VA. For more information on our services, please call us at (703) 686-4820.