In Home Care Services For Seniors in Memphis,TN 
Comfort Keepers provides a variety of customized in home care services for your senior loved one in Memphis, TN and the surrounding areas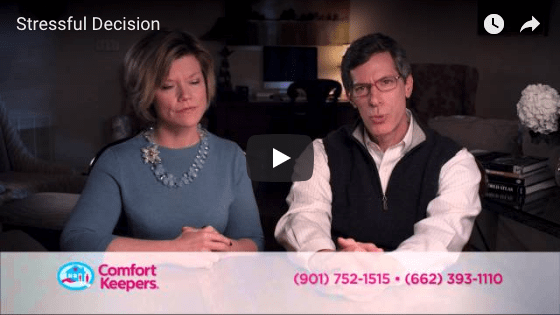 Your loved one can continue to live in their own home with the help of an in home care provider. Many seniors prefer to live their golden years in their own home, and many even thrive there. At Comfort Keepers, our caregivers can provide the care your senior needs to stay safe and healthy.
In Home Care for Seniors
Our qualified caregivers at Comfort Keepers can help with everything from light cleaning and laundry to assistance during the night. No matter the level of care that your loved one needs, we'll work with you and your senior to make sure that they get it. Some seniors may just want someone to visit a couple times a week to do some tidying and meal prep, while others may require everyday visits or 24-hour care. 
Receiving in home care, especially for more personal issues, can sometimes be hard for seniors. Someone who has always been very independent may feel extra vulnerable or embarrassed when asking for extra help with personal care tasks like toileting and bathing. Our caregivers will treat your loved one with respect and address their needs with dignity and respect.
Interactive Caregiving and Companionship
At Comfort Keepers, we offer a unique approach to in home care that we call Interactive Caregiving, which means that we work with your senior, not for them. We encourage seniors to engage in the activities they love, whether it be going for walks, cooking meals, or working on their favorite craft project. It's important to us that your senior not only gets their basic needs met, but that we make it easier for them to take part in their favorite activities. Maybe your loved one enjoys walking around and visiting their favorite shops, but their balance isn't quite what it used to be. Our caregivers are trained in mobility assistance, so we can help your loved one get from place to place and let them enjoy their walks around town.
We also put a strong emphasis on companionship. Many seniors deal with feelings of loneliness, and for some, their caregiver might be one of the only visitors they regularly have. Our caregivers enjoy getting to know the seniors they work with, and many of these relationships blossom into strong friendships. Seniors who are able to have a friend to talk to and spend time with have a much better outlook on life.
If you're interested in learning more about in home care and working with us at Comfort Keepers in Memphis, TN, contact us online today or by phone at (901) 207-8209. We look forward to meeting you and your loved one!
Schedule Your Free Consultation  Download Our Home Care Guides