Testimonials for Comfort Keepers Home Health Care Services in Memphis, TN
What People Are Saying About Comfort Keepers Home Health Care Services in Memphis, TN
Hundreds of people every day discover the exceptional brand of home health care services provided by Comfort Keepers from seniors and their families to the exceptionally caring people who discover Comfort Keepers and choose to become a Comfort Keeper® themselves. We are proud to offer our valuable, trusted home health care services to families in Memphis, TN, and the surrounding areas. Below you will find testimonials from real Comfort Keepers clients and their families who have experienced our leading Alzheimer's care, dementia care, end of life care, respite care and other varieties of home health care services in Memphis TN.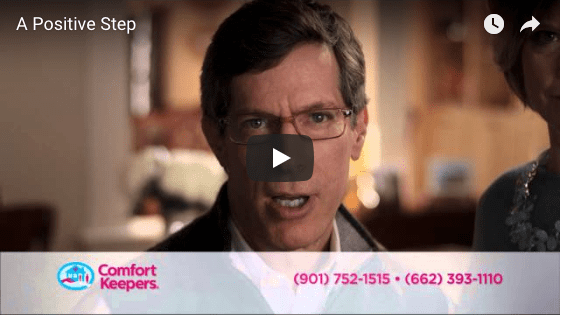 ---
To learn more about our wide range of senior care services, browse our website, contact us or call (901) 207-8209 to schedule a free in-home consultation.

"From the initial phone contact when I spoke to Janet through to the care providers, I found Comfort Keepers to be a caring and professional service. You demonstrated your patience and concern for my mother's situation, and you were open to feedback."
"I like that they are good at communicating and making sure that we have everything set up, the way we need it. They are gentle, kind and helpful."
"The company is prompt, on time, and very skilled. They are able to see beyond taking care of my sister. They are looking for ways to improve her care. Overall, it has been a good experience."
"Our caregiver is willing to do anything and wants to do everything."
"I just wanted to let you know that the parishioner for whom we contacted you for care passed away on Saturday. The family could not have been more pleased with the incredible quality of care that she received from Comfort Keepers, and I was personally there a good bit during the these last weeks, and was so impressed with everyone I met. Thank you so much for helping families like this one receive such good care during the last days of a loved one's life."
"The people that did the scheduling were right on top of it. They kept me informed if there was a change. I feel the quality of care my mom received was really good care."
"They match my mother's personality to the caregivers personalities. She's happy, so I am happy."
"The wonderful caregivers that Comfort Keepers sent made my wife's hospitalization much more bearable. Tina, Laura Lee, Wendy, Geneva and Holly helped her give and receive accurate information, provided personal support, and allayed her fears. Each caregiver was exceptional."
"I have been extremely happy with the services provided by Comfort Keepers. Their staff is well trained, carefully screened for honesty, caring, efficiency and ability. They are very punctual and reliable and fit in with my lifestyle. The managers care a lot about your happiness and contentment."
"I want to thank you for all the patience and concern you showed my parents as they made the tough transition to have caregivers come into their home."
"We have consistent people coming and that is nice. My mother likes them. It provides peace of mind for us knowing that there are eyes on my mom. They just have really nice caring people – well suited to their job."
"There service is really good, very caring, polite and they take time outside of their work schedule to assist. They were a huge help, they did things that I was unable to do."
"They are always there when they say she will be there. They do everything they are expected to do, and they do ore for my loved one's comfort and care."
"We have known them long enough that we can tell that they care. I know its not just a job for them."
"Hope was amazing. She walked into a challenging situation and handled everything professionally and strongly. She was exactly what my family needed at the time. The day my mother passed away, she guided me through the maze of details that needed to be handled and allowed me to cry on her shoulder. Her job had changed from comforting my mother to comforting me...and she excelled at her job."
"Was always there when we needed them. Every employee we worked with was A+ Thank you comfort keepers for being there in our time of need."
"I am writing in regards to the outstanding care provided by your caregiver to my patient. Over the years that I have been seeing him, he has not made as much progress as he has made by the attention and compassion of your caregiver. His visit in the office today was the best he has been and continues to thrive. While I would like to take credit, I feel she is really one of the main reasons for his improvement. I want you to know what a great employee she is and what a difference she has made in Mr. M."
"Earline has been invaluable in helping me be able to continue to care for my mother at home. Earline has been my mother's caregiver for about a year and eight months. I wanted to write because I feel that she has been an outstanding representative for your company. Because of the care she has given my mother I have recommended your company to numerous friends who think they might be in need of a similar service in the future. Earline is always willing to go the extra mile for my mom. She takes care-giving services very seriously. She keeps mom clean and comfortable, makes sure she is able to safely get to the bathroom, cleans mom's room and bathroom, does her laundry and is also just great companionship for her. Earline has been invaluable in helping me be able to continue to care for my mother at home. Thank you for providing us with such an outstanding caregiver for my mom!"
"As a retired nurse, I do know what good care is. The staff was all well trained in both physical care and the promotion of emotion well being. They were very kind, thoughtful and caring. I was re-evaluated frequently so my care was made in a realistic manner and my kids were kept informed. What a group! I would definitely recommend them; so you see they are the best in the business."
"We were blessed the day we found Comfort Keepers. My mother loved both of her caregivers and if we had not moved to another state we would still be using Comfort Keepers. I truly believe the care my mother received is reason the she is doing so well now. The staff was caring and professional."
"The caregivers are on time, caring, nice and thorough. The service helps him because he's not able to do for himself and it gives me some time off because someone is with him."
"I feel safe with them, and I feel like they care about my loved one. I don't feel uneasy when I am gone."
"I am very pleased that I chose Comfort Keepers. Their commitment to client care and integrity of their staff make families of loved ones completely at ease knowing that they are being looked after the way a family member would look after them. In essence, I am happy to say that Comfort Keepers are our"
"Comfort Keepers has been the top service I have had so far. It was outstanding because of the services of Sarah. Every time I talked to the office they could access what I needed at the time. I was barely conscious when I called them, and I was very grateful that the office had a continuous set of notes to look at. I have already referred them to others."
"My caregiver is absolutely amazing. I appreciate that she has taken the time to get to know me and know what my preferences are."
"They make sure that everything is picked up and taken care of. They do the dishes, laundry, and help me to go shopping. They do everything and they are wonderful."
"My mother fell within the last several months and broke her hip. Following surgery and 6 weeks in rehab, she was discharged to return home. But she was deemed a "fall risk," compounded by her moderate dementia. I knew home was where she needed to be, but she could not be alone. After some due diligence, I reached out to Comfort Keepers to provide 24-hour, in-home care. To date, I could not be more pleased with the care my Mother has received. Her caregivers are professional, kind and patient. The Comfort Keepers care coordinators do their best to ensure that just a handful of their caregivers tend to my Mother. This consistency benefits all involved. My Mother's caregivers have even been a great help in caring for my Mother's 2 cats. A bonus. Comfort Keepers has given my family and me a great deal of peace of mind. We are grateful."
"On behalf of our family, I'd like to thank you all and his excellent caregivers (especially Chatrese, Gloria and Sherrita) for the kind and caring attention provided to my father over the past years. Your service was incredible and the love and kindness shown to my father during the last years of his life was exceptional! To be able to continue to live at home was very important to him! He will be greatly missed, but knowing his last years at home were filled with such wonderful care is so comforting to his family."
"The comfort keepers staff recently helped with my father at Germantown Village. He was in an apartment with my mother in independent living. He had metastatic melanoma and our goal was to keep him in the apartment with my mother. We could not have done this without the excellent care that he received from comfort keepers. I made an emergency call to comfort keepers on a Saturday afternoon in March after the Village told us that their staff could not care him. The staff from CK arranged for an attendant that night. Helen Belmont, Bobbi Hopson, and Shareta Buford took excellent care of my father until he passed on 5/29. They provided physical and emotional support for my parents. Both of my parents grew close to them during that time. My son (Philip) played football with Jacob at MUS. Please feel free to share my testimonial and I will be happy to leave a review on the website of your choice. I have already recommended CK to some of my patients in need of home care."