Alzheimer's Care & Dementia Care in Tulsa, Oklahoma
Dementia care and Alzheimer's Care will give you peace of mind of knowing your loved one is safe and secure.
When your loved one loses his or her grasp on day-to-day tasks and associations that used to be commonplace, it can be frustrating for him or her, alarming for you, and upsetting for your entire family. Providing Alzheimer's or dementia care alone is incredibly difficult to face alone, even if your loved one is otherwise able-bodied. If you're taking responsibility for helping your loved one stay functional, you already know just how much work that entails.
Comfort Keepers® offers specialized services to lighten a load of dementia care for families in Tulsa, Oklahoma, and surrounding communities. You shouldn't be expected to handle the unique challenges of dementia alone – with the help of trained caregivers, or Comfort Keepers®, you don't have to. The Tulsa-based staff will design a dementia care plan to fit your loved one's specific needs, whether that means a few hours each week, or every hour of the day. No matter what level of care your family requires, your loved one can still live in the comfort of his or her own home for as long as possible.
---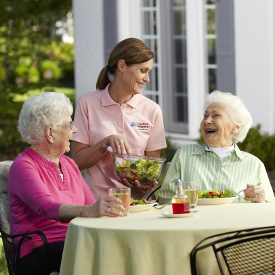 What is Dementia and Alzheimer's Care?
In general, dementia is a decline in mental ability, such as memory loss or an inability to complete familiar tasks, serious enough to interfere with a person's daily life. Alzheimer's disease is the most common type of dementia, accounting for 50 to 80 percent of dementia cases. Our services help people with these symptoms by focusing on their remaining abilities and strengths while assisting with tasks that have become difficult for the client to perform.
Contact Us
---
Elements of Dementia Care or Alzheimer's Care
Comfort Keepers dementia care recognize the distinct needs of seniors suffering from dementia-related illnesses. Their training helps them to not only adapt to your loved one's level of ability but also understand his or her unique needs as a person. Our Interactive Caregiving™ approach to care recognizes how critical mental and emotional stimulation are to combating dementia. Common elements of in-home care for a senior with Alzheimer's disease or another form of dementia can include
maintaining a safe place for your loved one to live,
providing meals and monitoring nutrition,
helping with bathing and grooming,
engaging your loved one in conversation, and
participating in memory-stimulating activities, like reading aloud or reminiscing.
The unique challenges Alzheimer's disease and other forms of dementia can bring don't have to be faced alone. If you want to learn about the options available to your loved one, contact Comfort Keepers of Tulsa, Oklahoma today by giving us a call at (918) 205-1756.