Providing Care For Seniors in Fargo, ND and the Surrounding Area Since 2004
We support and encourage a senior's desire to live an independent lifestyle in the safety, privacy, and comfort of their own home. This is why Comfort Keepers of Fargo, ND offers a variety of in home care services that are customized for each client. No matter your needs, whether it is for part-time, full-time or 24 hour care, our caregivers can accommodate them.
Give us a call at (701) 297-2431 to learn more!
---
Our Services
Services in the home allow seniors to get the assistance they need to live happily, healthy, and safely, while remaining in the home they love. Through Interactive Caregiving, our unique approach to caregiving, we keep seniors active and engaged to support a happy and healthy lifestyle- often leading to longer lives for our clients. We are proud to provide care to seniors when and where they need it, whether it is primary care in the home, or supporting the care of a facility, nursing home or primary caregiver.
---
A History Of Helping Seniors Thrive

Proudly serving the Fargo/Moorhead and Grand Forks areas for the past 15 years, Comfort Keepers of Fargo, ND provides a variety of in home care services including daily activities that keep seniors active and healthy. We focus on matching the right caregiver to fit your loved one's personality and interests. Our goal is keeping our clients engaged and treating them like our own family with our personalized care.
---
NOT SURE WHAT CARE YOU MAY NEED?
If you have worried about your senior loved one living on their own, it might be time to consider in home senior care. Begin the process by taking a short survey to help you better understand when the time has come to pursue care options.
---
Private Duty Certified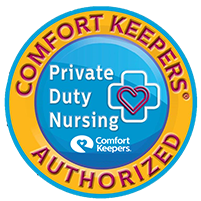 Often times seniors may need an extra set of hands around their home due to a medical condition. This condition is normally chronic and affects their ability to continue doing daily living tasks. While a caregiver can ensure their personal needs are met, it takes a certified LPN or RN to be able to assist them medically. We are proud to be a certified provider of private duty nursing services for seniors to support them with their medical equipment, therapies, medications, and more.
Find out more about how our team can assist you or your loved ones, call Sue and Joel Peterson (701) 297-2431 to schedule a free care consultation.