Senior Home Care from Comfort Keepers in Mountainside, NJ
Family members who are searching for senior home care for their loved ones in Mountainside, NJ should consider the advantages to working with Comfort Keepers. Because Comfort Keepers sends a caregiver directly to a client's house, they can assist with all basic responsibilities, provide companionship, and offer a number of other services. Many seniors would prefer to stay in their house as long as possible, so working with an in home care provider like Comfort Keepers is often a great choice.
When Mom and Dad can't do everything they are used to doing, but still want to remain together in the home where they raised their family, Comfort Keepers® is ready to help. Whether assisting with a transition home from the hospital, caring for a loved one with Alzheimer's or dementia, or providing respite for the primary caregiver, our Comfort Keepers® can support your family and your loved one.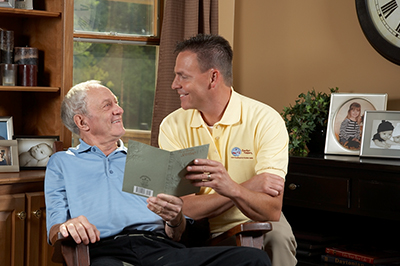 Our caring staff brings years of experience and compassion to your home. We can help with personal care such as medication reminders, bathing, and dressing, or help around the house doing light housekeeping, laundry and meal preparation.
How can senior home care benefit your loved one in Mountainside, NJ?
A caregiver from Comfort Keepers can provide senior home care directly in a client's house. Caregivers assist with basic responsibilities like bathing, dressing, housework, laundry, and meal preparation. During the course of the day, caregivers from Comfort Keepers engage with clients and provide companionship. We understand that clients who have someone to talk to are often happier overall.
The meal preparation that caregivers from Comfort Keepers offers gives them a chance to bond with clients. Caregivers encourage aging loved ones to participate in meal preparation in order to enjoy the experience, as part of their senior home care. After cooking a nutritious meal, both a client and a caregiver sit down to eat together. During meal time, a client and a caregiver can get to know each other, as they discuss whatever is on their minds.
Caregivers from Comfort Keepers focus on Interactive Caregiving™ with their senior home care in order to keep aging adults active on a number of levels. With Interactive Caregiving™, a caregiver encourages clients to remain mentally, physically, and socially active. Caregivers realize that clients who get out and enjoy their life are able to get the most out of their experience with Comfort Keepers.
Our caregivers also make sure that your family member remains active and engaged in the community. Whether it's picking up toiletries at Baron's Drug Store in Westfield or going to the doctor's office at Mountainside Hospital in Montclair, a member of our team will get Dad there safely and efficiently.
We can also take your loved one on a drive in the Watchung Mountains to visit the butterfly garden or the wildlife viewing area. Wherever they need to go, our caregivers will be there to lend a helping hand.
Brittney Lawson Reviews Comfort Keepers

" My mom loved her caregiver! Having someone really care about your parents is so heart warming because I can't be there for her as much anymore due to work. This lifted a weight off my shoulders."