In Home Care in Cranford, NJ
Exceptional In Home Care at Comfort Keepers of Cranford, NJ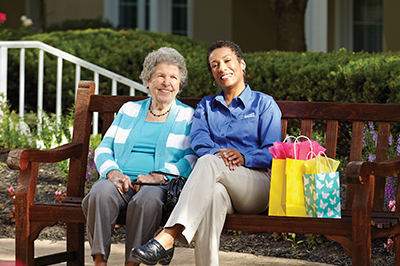 If you're searching for the highest quality in home care services for your senior loved one, look no further than Comfort Keepers in Cranford, NJ. Our services are designed for senior citizens who would like to enjoy the later years of their life in the comfort of their own home. Comfort Keepers of Cranford, NJ will give you the peace of mind of knowing that your elder is receiving assistance with all of the personal care tasks and household duties that he or she may have difficulty completing alone.
When your loved ones need in-home, personal care and companionship services in Cranford, NJ, Comfort Keepers® is here to help. Whether assisting with a transition home from the hospital, caring for a loved one with Alzheimer's disease or dementia, or giving the primary caregiver a break for a few hours, our Comfort Keepers® can support your family and care for your loved one.
Our caring staff brings experience and compassion to your home. We can help with personal care such as medication reminders, bathing, and dressing, or help around the house doing light housekeeping, laundry and meal preparation.
Our caregivers also make sure that your family member remains active and engaged in the community. In addition to running errands as needed, a Comfort Keeper® can accompany her client to a matinee at the Digiplex on North Street and cap the afternoon off with a cup of tea and a pastry at Rockin Joe's on Eastman. Or perhaps your senior would prefer an afternoon of shopping at The Mall at Short Hills. Whatever the need, a member of our caring team will be there to offer a helping hand.
We offer both personal care and companionship care services that will provide your elder with the right amount of support for living independently at home. Bathing and personal hygiene, mobility assistance, incontinence care, transferring and positioning, and feeding are several of our most popular personal care services. Companionship care service offerings include meal preparation, light housekeeping, laundry, grocery shopping and errands, medication reminders, and incidental transportation.
24-hour care is also available for Cranford, NJ elders who require round-the-clock assistance. If your senior is coping with Alzheimer's disease or dementia, has recently returned home from the hospital, or has been diagnosed with a chronic health condition, 24-hour care may be the ideal option.
In the event that your aging loved one requires less care, our highly-trained and compassionate in home caregivers can visit his or her home for just a few hours a week. Comfort Keepers of Cranford, NJ is flexible and can provide your senior with as much or as little care as he or she requires. During an initial consultation, we will determine what types of services your older loved one may benefit from and how often they may be necessary.
All seniors are paired with the highly-trained and qualified in home care aides. Comfort Keepers caregivers undergo a screening process which consists of a local and national background check as well as an evaluation of driving history. They are also required to complete an extensive training program and participate in continuing education classes. In addition, Comfort Keepers of Cranford, NJ are bonded, insured, and covered by worker's compensation.
Are you interested in learning more about how Comfort Keepers of Cranford, NJ can make aging at home a reality for your senior loved one? If so, contact us today for further information. We look forward to designing a personalized care plan that will meet your elder's particular needs.
Evan Peterson Reviews Comfort Keepers

" My mom and I are very close, which obviously makes it so hard for me to put her in the care of someone that is not me because i believe I give her the best care possible. But all the staff at comfort keepers reassured me that they would give her the best, if not better care than I could give her. And they did!"