Expert 24-Hour Home Care For Seniors From Comfort Keepers of Waite Park & St. Cloud, MN
We professionally train each 24-hour home care aide to give you peace of mind, no matter the time.
As seniors age, they may need around-the-clock care. When you or your family can't be there, Comfort Keepers of Waite Park and St. Cloud, MN is there to step in with a 24-hour home care team. 24-hour home care provides an awake, alert and trained caregiver at all hours - without sleeping shifts.
Our senior caregivers are specially trained to assist loved ones with declining mental and/or physical abilities in the comfort of their own home. They provide companionship and meaningful experiences leading to a healthy and engaging lifestyle.
24-Hour Home Care Testimonials
"Comfort Keepers has been providing 24/7 service for my husband. We feel very fortunate to be working with such a great and awesome team! Needing someone to be in your home all the time can cause additional stress in an already stressful situation. Thankfully, Comfort Keepers has provided us with staff that is trustworthy and very engaged in my husband's care! We had used another service in town prior to Comfort Keepers. I was apprehensive and nervous when I had to find another provider. I am so grateful and pleasantly surprised by the service)s_ they provide! I have high expectations in regards to his care and that is why I wholeheartedly would recommend them!"

- Lisa

"My parents became clients of Comfort Keepers after my mom, who has Alzheimer's, had a bad fall. We have been very happy with the 24/7 care provided. I am so pleased we have been able to keep my mom at home with one-to-one care - and we have successfully prevented another accident. It comforts me to know my mom is where she wants to be right now. We are very grateful to Comfort Keepers for the way their staff has not only served my mom but has taken much of the burden of caretaking off my dad so he can just be a husband."

- Kate
What Is 24-Hour Home Care For Seniors?

When families are no longer able to provide around-the-clock care, they turn to 24-hour home care. Caregivers from Comfort Keepers of Waite Park and St. Cloud, MN will work to provide any of our selection of services on an around-the-clock basis. This gives you the peace of mind of knowing someone is there to help your loved one at any time of day or night.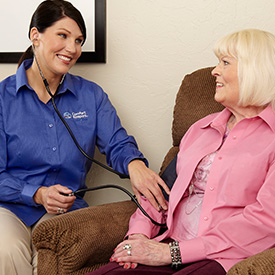 24-Hour Home Care Services in Waite Park & St. Cloud, MN
Our services include:
Medication management and reminders
Transportation for errands, shopping, appointments, and events
Housekeeping including vacuuming, dusting, sweeping, and mopping
Laundry
Meal preparation and cooking
Companionship
Incontinence care
Mobility assistance
Bathing and grooming
24-Hour Services vs. Live-In Care
Many families inquire about the difference between 24-hour home care and live-in care services, and the difference is simple:
With 24-hour home care, an awake and alert home care aid will be present all hours of the day and night.
Live-in care typical provides a sleeping break for the caregivers during the period when your loved one may be sleeping.
Knowing there's someone with your loved one at all times gives you and your family peace of mind that your loved ones are safe and looked after.
We also offer 24-hour services as an option for respite care if your loved one needs a home care aid while the family is away for an extended period of time. Our 24-hour care is customized to meet your senior loved one's needs, based on their physical and mental capabilities.