LIttle Falls, MN
Annandale, MN
Rice, MN
Gilman, MN
Royalton, MN
St. Stephen, MN
St. Augusta, MN
St. Cloud, MN
St. Wendel, MN
Sauk Rapids, MN
Waite Park, MN
Clearwater, MN
Watab, MN
Collegeville, MN
Maple Lake, MN
Avon, MN
Foley, MN
Cold Springs, MN
Morrison County, MN
Oak Park, MN
Stearns County, MN
Sartell, MN
Clear Lake, MN
Sherburne County, MN
Holdingford, MN
Benton County, MN
St. Joseph, MN
Bowlus, MN
Wright County, MN
Expert Senior Care Services in St. Joseph, MN
Since 2004, Comfort Keepers have been providing the residents of St. Joseph, MN with customized senior care services
St. Joseph is home to more than 75 acres of beautiful woodlands and parks, many of which our senior clients love to take advantage of when the weather is nice. Along with trails in the bards, St. Joseph is also the trail head for Lake Wobegon Trail. Choosing in home senior care services over an assisted living facility provides many benefits such as easy access to the city's sights and attractions, as well as the ability to remain in their own home which holds happy memories.
Community Involvement in St. Joseph, MN
Along with the parks and trails St. Joseph has to offer, our clients frequent other Minnesota attractions. St. Joseph is home to College of Saint Benedict, which features a beautiful, historic campus. The campus is a great place for seniors to go for walks with their caregivers. Many of our senior clients in St. Joseph like to travel to St. Cloud with their caregivers to attend events, classes, games and activities at the Whitney Senior Center. The Whitney Senior Center has daily activities such as walking, ceramics, support groups, games and other fun activities specifically for seniors. Attending events in the community helps keep seniors active and engaged.
Top-Rated In Home Care and Senior Care Services in St. Joseph, MN
We understand the search for in home senior care services for your loved one can be intimidating and overwhelming, especially because there are so many options. What makes Comfort Keepers of Waite Park & St. Cloud, MN different is our customized care plans. We help you find the right in home care for your loved one from start to finish and can help your loved one determine an appropriate payment plan for our services. We offer a variety of senior care services including dementia care, respite care, 24 hour home care, Alzheimer's care, end of life care as well as traditional companionship and home services. Our caregivers can provide care for a few hours a week or around the clock depending on the needs of you or your loved one.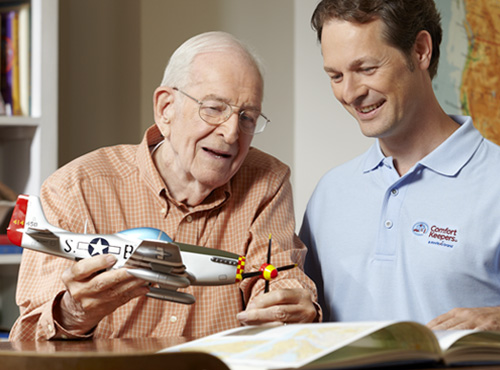 Custom Care Starts Here
Let us help you with your search for senior care. Contact us or call us 24/7 at (320) 230-9939 to speak with a senior advisor. We can schedule a free in-home care consultation where we can meet you in person and create a custom plan.