Annandale, MN
Avon, MN
Benton County, MN
Bowlus, MN
Clear Lake, MN
Clearwater, MN
Cold Springs, MN
Collegeville, MN
Foley, MN
Gilman, MN
Holdingford, MN
LIttle Falls, MN
Maple Lake, MN
Morrison County, MN
Oak Park, MN
Rice, MN
Royalton, MN
Sartell, MN
Sauk Rapids, MN
Sherburne County, MN
St. Augusta, MN
St. Cloud, MN
Stearns County, MN
St. Joseph, MN
St. Stephen, MN
St. Wendel, MN
Waite Park, MN
Watab, MN
Wright County, MN
Senior Care in St. Augusta, MN
Senior care services to help your loved one remain independent in their home in St. Augusta, MN
A tiny town adjacent to St. Cloud, St Augusta, MN is home to just 3300 people. The town has been around since the 1800's but has only just recently incorporated in order to maintain its own identity, and not be annexed by the larger city of St. Cloud. For those who live here, life is quiet, making it a great place to retire. Comfort Keepers knows how important it is to maintain the slow and quiet pace of life in St. Augusta, MN and it is for this reason they offer senior care services in the area.
Alzheimer's Care and Dementia Care
There was a time not too long ago that a diagnosis of Alzheimer's resigned a family member to a nursing home because their care was just too much for family members to manage. With Comfort Keepers in St. Augusta, MN you will find that our senior care team has been specially trained in order to help you maintain a safe environment for your loved one as well as engage your senior in activities that can help them maintain as much of their cognitive abilities as possible. Our specialized Alzheimer's care is available part time and full time 24 hours a day depending on the client's needs. We can assist in meals and hygiene, and offer support to family to navigate this often confusing diagnosis.
St. Augusta, MN Senior Care is Customized Specifically to Your Senior's Needs
Seniors need to continue doing what they can, when they are able. This helps to keep them healthy for the longest period of time. When you call Comfort Keepers in St. Augusta, MN we come into your home, assess the client's needs, health, and abilities. We use this information to decide the level of senior care the client needs and assign the appropriate caretakers in shifts to ensure that your senior is never without the care they need.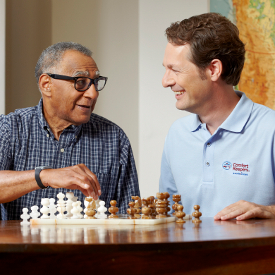 We Can Be There, No Matter Your Needs
Whether you are looking for full time care or just extra help in caring for your loved one, our highly trained caretakers can help. Your first step in finding the peace of mind that senior care can bring is to call our senior advisor. They can answer all of your questions and set you up with a free in-home care consultation where we can assess your loved ones needs. Contact us or call us at (320) 230-9939 today to get started.