LIttle Falls, MN
Annandale, MN
Rice, MN
Gilman, MN
Royalton, MN
St. Stephen, MN
St. Augusta, MN
St. Cloud, MN
St. Wendel, MN
Sauk Rapids, MN
Waite Park, MN
Clearwater, MN
Watab, MN
Collegeville, MN
Maple Lake, MN
Avon, MN
Foley, MN
Cold Springs, MN
Morrison County, MN
Oak Park, MN
Stearns County, MN
Sartell, MN
Clear Lake, MN
Sherburne County, MN
Holdingford, MN
Benton County, MN
St. Joseph, MN
Bowlus, MN
Wright County, MN
Home Care in Clearwater, MN
Around the Clock Home Care in Clearwater, MN
Clearwater is a small town of less than 2,000 that has been around since the middle of the 19th century and sits on only 1.75 square miles of land. Of the total population, approximately 5% is over the age of 65, many of whom are quite capable of living in their own homes. However, there is a small number of our local senior residents who need more than just a little help around the house. At Comfort Keepers, we offer a full range of around the clock care home care services designed to help those in our care remain in their homes.
Our Dementia Care Services in Clearwater, MN
There was a time, not too long ago, that being diagnosed with dementia or Alzheimer's disease meant spending the rest of the person's life in a nursing home or assisted living facility. This is because most family members have no idea how to care for someone with either of these conditions. At Comfort Keepers in Clearwater, MN we have caretakers who have been specially trained in working with those diagnosed with these conditions. They can provide a safe environment for your loved ones and engage them in a range of home care activities designed to help them maintain the highest possible level of cognitive ability.
Personal Hygiene as Part of Our Home Care in Clearwater, MN
We realize that seniors need to be able to continue doing as much as they can for as long as possible in order to remain physically and mentally healthy. When you contact Comfort Keepers in Clearwater, MN, one of our senior care advisors will come to your home or that of your loved ones and assess their abilities, health, and needs. From this assessment, we will work with you to create a customized home care plan that meets their needs and assign the right type of caretakers to provide them. This way you can be assured that your loved ones will always have the care they need.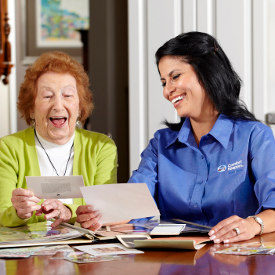 Custom Care Anytime You Need It
Whether your loved ones need part or full-time care in Clearwater, MN, we can help. If you would like to learn more about the home care programs we have, all you have to do is call us at (320) 230-9939. Our senior care advisors man the phones 24/7 to answer your questions and schedule your free in-home care consultation where we can discuss the needs of your loved ones.