At Comfort Keepers of Rochester Hills, Our Professional Dementia Care Can Help
Professional services provided right in the home of your loved one
No one knows just how much hard work goes into providing a person with the care they need once diagnosed with Alzheimer's disease and dementia. While many family caregivers can handle the work in the early stages of this incapacitating mental disorder, they are often left in the dark about how to handle their loved as the condition progresses. At Comfort Keepers of Rochester Hills, MI we provide dementia care.
Give us a call at (248) 206-0314 to learn more!
Support for your family only takes
Facts You May Not Know About Alzheimer's Disease
1. The number of people whose death can be attributed to Alzheimer's diseases skyrocketed by 145% from 2000 to 2017. At the same time, the number of people dying due to a heart attack declined by 9%.
2. Here in the United States, there are over 5.8 million people currently diagnosed with Alzheimer's disease. Around the world, this number is a staggering 50 million.
3. One person in America is diagnosed with this dread mental disorder every 65 seconds. This number skyrockets to one person every 33 seconds when you add in the rest of the word.
4. Here in the U.S. Alzheimer's disease is now considered to the 6th most common cause of death.
Despite having invested over $1.1 trillion in both research and care, the world is no closer to understanding the mechanisms of Alzheimer's disease. To date, there are no cures for Alzheimer's disease. When you look at these staggering numbers, it becomes much easier to understand why so many family members find themselves in the role of family dementia caregivers.
Never Let Yourself Become Overwhelmed
One of the easiest things to become for many family members is becoming overwhelmed. Most have a family of their own, a career, and a household to manage. If you find yourself in this situation, you need to contact Comfort Keepers and let us provide you with one of our highly skilled caregivers to help take some of the strain off your shoulders. You can't be an effective caregiver if you are so tired and stressed, you feel like you are losing it.
Your Love One Needs the Routine of Being at Home
While we may not have a cure for Alzheimer's disease, and no one truly knows why some people fall victim to it while others do not. Although many families end up placing their loved ones in a nursing home, this is often not the best place for them. In fact, medical and psychiatric research has found that being able to enjoy familiar routines such as those experienced in the home of a loved one can help relieve some of the confusion and anxiety is far better for them. This can easily be achieved with the help of one of our professional dementia caregivers.
Our Team Has a Lot to Share
At Comfort Keepers, we know that no one can handle dementia care of a loved one without feeling overwhelmed by the amount of work involved. We can provide you and your loved one with many different services to help make your lives a little easier and less complicated. Among these are:
Making sure that all family members have time to indulge in self-care, including things like taking a little time off to rest, maybe hit the spa or take care of some personal business. We call this respite care, which is an important part of being able to provide the care your loved one desperately needs.
Making sure your loved can make to any and all medical and dental appointments or visiting their favorite senior center.
Making sure everyone uses a notebook to write down any changes they notice. This information will make it easier for your loved one's doctor to make any changes in their dementia care plan.
Taking the time out to assemble stimulating games and creating a routine that helps in keeping your loved one's mind active, an important part of keeping this progressive disease at bay for as long as possible.
Taking care of a wide array of both personal care and homemaking services to ensure you have enough time in the day to take care of your family and yourself.
Making sure to offer you "respite" care that can let our dementia caregivers take over while you enjoy a well-earned rest.
Making sure you have the education and training needed to continue working with your loved one as their condition continues to decline.
There are also plenty of fun activities that can be planned with your senior that are excellent at stimulating the mind and body. See our activity cards below and share with your Rochester Hills, MI family.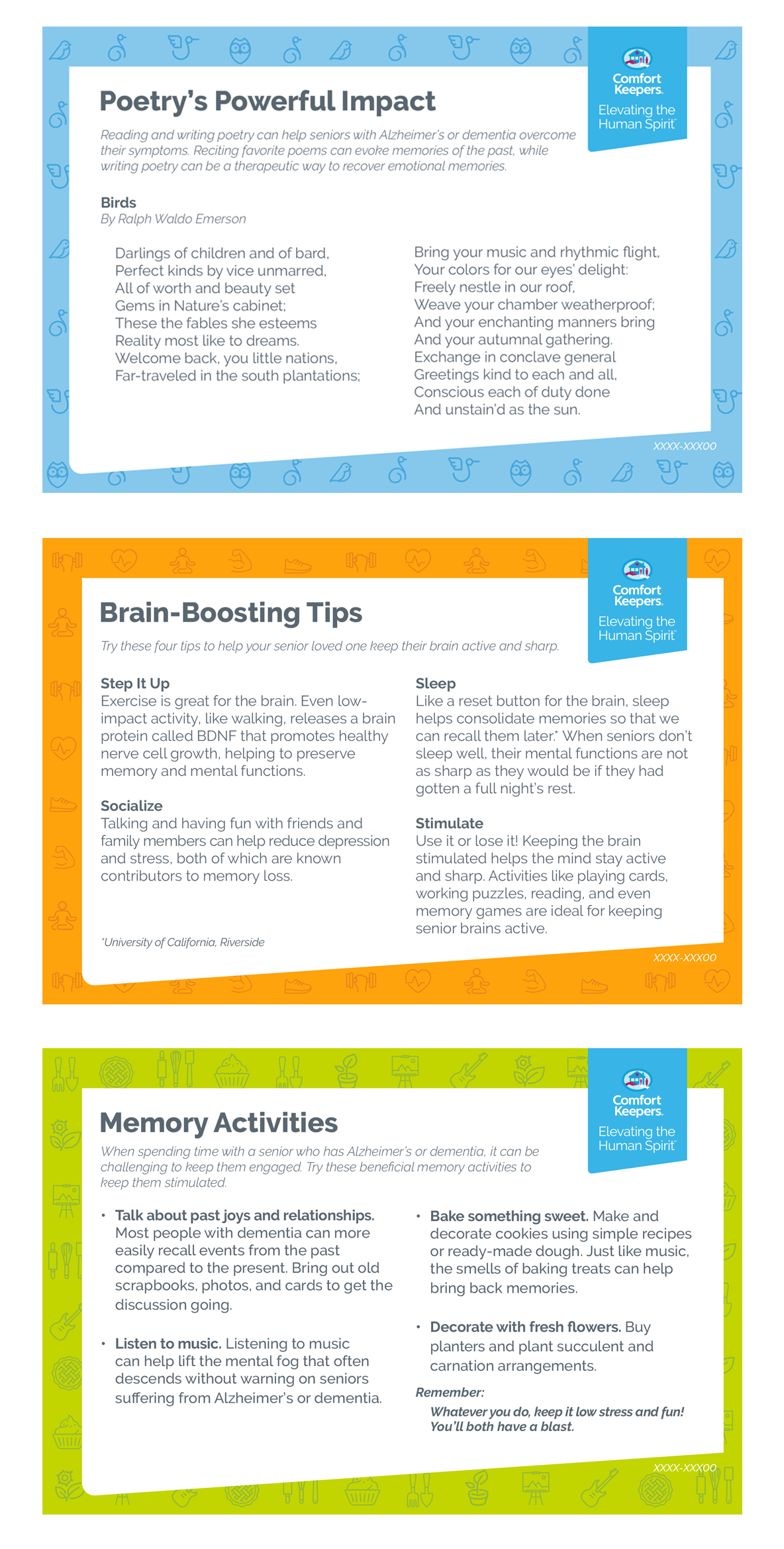 If you have been playing the role of family caregiver and are starting to feel the strain, be sure to call Comfort Keepers Rochester Hills, MI and let us provide you one of our knowledgeable dementia caregivers. To learn more contact us online at (248) 206-0314 and let us schedule your appointment with one of our senior advisors for your free dementia care consultation.