In-Home Senior Care
Paw Paw and Mattawan, MI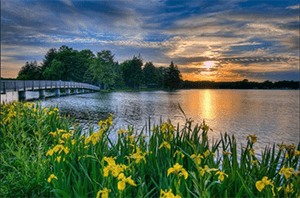 If you're looking for in home senior personal care or companion care just west of Kalamazoo, the professionals with Comfort Keepers are ready to help. You can be assured of quality home health care provided by trained, certified caregivers. We are available 24-hours a day to help your senior stay at home and live independently. We also help seniors in assisted living facilities like Maple Lake who want to stay independent but who may occasionally need a little extra attention, help, companionship or transportation.
Citizens of Mattawan and Paw Paw are used to beautiful green spaces and plenty of fresh air. With the companionship of a home health aide, your loved one will get quality dementia care both at home and out in their neighborhoods. Time spent at the park on Ismons Pond will help your loved one enjoy the beautiful Michigan summer and bring back happy memories. Other opportunities for fresh air and sunshine include time enjoying a ball game at the Mattawan Little League Diamonds or relaxing on the shores of Maple Lake. Finally, Kalamazoo and the auto museum are just a short drive away.
In addition to our companion services, we offer a wide array of services for your senior. Each plan of care is customized and written based on your seniors needs. Whether your loved one needs personal care or 24-hour care we can assist with bathing and dressing, light meal prep, help with housekeeping or taking your senior to a doctor's appointment.
Comfort Keepers home health aides are hired and trained locally. While nobody can guarantee the weather here, you can be assured that the professionals sent to assist your loved one know how to handle the road conditions even during our cold Mattawan Winters and we treat every client as if they were a member of our family.
Rest easy. Rest Assured. Quality help is only a phone call away. Connect with professionals you can trust who will offer you and your elderly loved one peace of mind and dedicated care. Day or night we are here whenever you need help: (269) 375-5466 or contact us online here.