Providing Care For Seniors in Burton, MI and the Surrounding Area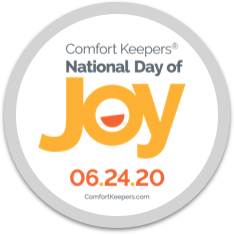 Learn how you can spread joy with our team this year!
One of the hardest parts of finding in home care for your elderly family members in Burton, MI, is finding an agency that is willing to match their services to the needs of your loved ones. Many offer specific plans that have very little room for adjustment. At Comfort Keepers, we realize that no two of our clients are likely to have the same needs. Some need nothing more than a little help around the house, while others require 24/7 nursing care.
Give us a call at (810) 207-3770 to learn more!
---
Our Services
---
We Can Meet All Of Your Needs
One of the key aspects of our in home care program in West Lake, MI is that it is fully customizable. Whether your loved ones need a little help with daily tasks like laundry and housekeeping or require more significant help such as assistance with personal hygiene, oral hygiene, and toiletry, we have a team that is trained to help. We also offer a range of transportation assistance options via our caregivers who will take your loved ones to medical appointments, shopping, or simply out for day visit to the lake.
---
NOT SURE WHAT CARE YOU MAY NEED?
If you have worried about your senior loved one living on their own, it might be time to consider care at home. Begin the process by taking a short survey to help you better understand when the time has come to pursue care options.
---
You Decide on the Level Care
When your loved ones reach the point at which they need daily support and you need to help them make decisions regarding their support, things can get a little confusing. You may not be fully aware of what they can and cannot do for themselves. Worse yet, they may be somewhat resistant to the idea of having someone come into their home. Our Senior Care Advisors will work with you both to help determine the right level of support to meet their needs. We are not here to take over their lives, but rather help them continue to live healthy and happy.
If you are still not sure about what type of in home care your loved ones need, we can help. Contact us at Comfort Keepers of Burton, MI. Our phones are answered 24/7 by a team of highly experienced Senior Care Advisors who are there to answer your questions. They can also offer to schedule a free care consultation where we can further discuss the care options available for your loved ones.(810) 207-3770