More Coronavirus Resources:
Holiday Safety With Seniors
To plan safe holiday gatherings with the seniors in your life this year, Comfort Keepers is here to offer advice and tips for senior safety and well-being.
Celebrating the 4th of July During the Coronavirus Pandemic
When we think of the 4th of July, many of us think of past fireworks shows, BBQ's and family gatherings. While things may look different this year, it is important to remember that we can still celebrate the best of the summer - even while physically distancing at home.
Wednesday, November 24, 2021
50 Ways to Bring Seniors Comfort and Joy this Season
There are many ways to bring connection, purpose, and hope to seniors this holiday season and all year round. It can be refreshing and fun to incorporate new ideas and shake up our everyday routine, especially during holidays.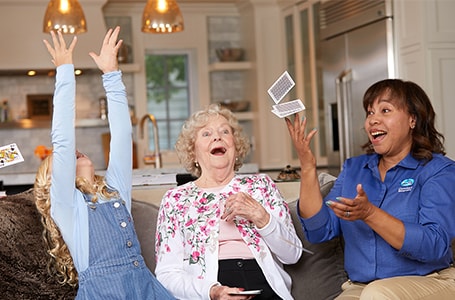 These fun ideas for families focus on activities to do with seniors, including grandparents, older parents, and elderly neighbors. Some are free or affordable, and others may require some planning ahead. These ideas can be enjoyed together or apart to bring joy and make new memories. Others are intended to bring joy to those that can't spend time together in person.
Bake cookies or a favorite holiday treat

Make an ornament or cute holiday decoration as a gift

Help a senior shop for holiday gifts online

Wrap gifts on behalf of a senior and deliver them to loved ones

Have a drive-through holiday parade outside of a senior's home

Gather everyone in your household and go caroling for seniors

Put together a gift basket of hot chocolate, baked goods or favorite holiday snacks

String lights outside of a senior's home

Make a wreath for a senior's door

Print photos of holiday memories and share them

Send cards, letters or notes of encouragement

Run a holiday errand for someone that is isolating at home

Snap a few photos of your friends, family, and pets to send by text or email

Plan a surprise meal for a senior, either by cooking for the senior in your household or arranging meal delivery if you can't be in-person

Draw a picture and send it in the mail

Lend a senior a favorite book or movie and explain why you love it

Take a senior in your household for a sunset car ride

Celebrate the 12 days of Christmas by sending a senior gifts and treats.

Color a page from a coloring book and give it as a gift

Surprise a senior by playing or singing their favorite song over the phone or on a video call

Paint a picture and give it to a senior

Make and send a handmade card

Post sticky notes with uplifting messages around the house

Make origamis and present them as gifts

Tell a senior what you admire about them

Create a book of holiday memories for someone special

Thank someone that you appreciate

Listen to a senior reminisce about the "good old days"

Surprise a senior by dancing to a favorite song on video or dance with a senior in your household!

Write a poem and give it as a gift

Bring coffee from their favorite coffee shop

Frame a senior's favorite quote give it to them

Decorate for the holidays, either outside of their home or inside if you're in the same household

Read a favorite holiday book together over the phone

Send a senior a poinsettia or other seasonal plant for their garden

Gift an indoor garden to someone that can't be outside due to weather

Order supplies from an online crafts store for your loved one's favorite hobby or something fun and new

Have your senior narrate parts of their life for you. Write down the memories and create a booklet with photos for you all to cherish.

Have a fashion show showcasing silly holiday looks over video or with a senior in your household and dress up in themes from your loved ones favorite era

Watch a favorite classic movie with a senior in your household

Ask your senior loved one to gather items to donate, and take them to a charity drive for them

Have family phone or video calls

Record a voice journal and share it

Create a family holiday recipe book

Play Bingo online

Create a collage and gift it to a senior loved one

Play charades in-person with those in your household or over video chat

Find a senior pen pal and send letters and notes on a regular basis

Share a favorite podcast or audio book

Make a family tree and gift it to a senior
Comfort Keepers® Can Help
At Comfort Keepers®, we create individual care plans for every client. These plans include wellness goals that consider physical, mental, and emotional health. Our caregivers can help support physician-prescribed exercise plans and help seniors engage in the activities they love the most. And, our caregivers can help seniors stay connected with loved ones through video chats, phone calls, and care updates. We believe that every senior should experience the best in life. If you have questions about Comfort Keepers uplifting in-home care services, please contact us today.