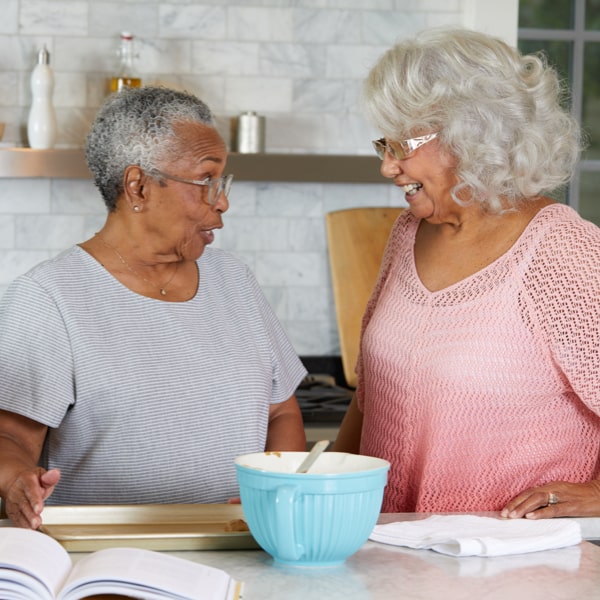 Comfort Keepers Home Care Services in Palatine, IL
Comfort Keepers provides comprehensive and personal home care services for seniors in Palatine, IL, and the surrounding areas
Comfort Keepers Home Care in Palatine, IL proudly offers elder care for local seniors. Our compassionate care services have helped many seniors enjoy a comfortable and fulfilling lifestyle in the comfort of their own home. Thanks to our comprehensive list of service offerings, every senior can have a plan of care that's geared toward their specific needs and desires. 
Care Services At Home
With our home care services, your loved one can receive assistance with household chores and personal care tasks such as bathing, feeding, incontinence care, grocery shopping, meal preparation, incidental transportation, transferring and positioning, private duty nursing, medication reminders and more. Our plans of care are completely customizable so each senior can make the most of the services they are receiving. We also recognize that over time many seniors' needs change, which is why our services and care plans can change and adapt as well.
The Interactive Caregiving Approach
Comfort Keepers of Palatine, IL offers Interactive Caregiving, which is a unique approach to our home care services that are designed to stimulate a senior both mentally and physically. A typical Interactive Caregiving plan may include activities such as trips to the shopping mall, stretching exercises at home, conversations about hobbies, and chess tournaments with friends and family. Interactive Caregiving plans are designed with every senior's capabilities, interests, preferences, and needs in mind.
Care Whenever You Need It
Aging adults who currently have a family caregiver may benefit from respite care that will allow a caregiver to take some time off from their duties and prevent burnout. Respite care can be utilized on a regular basis or occasionally so that a caregiver can go on a vacation or spend some time focusing on their own needs. By opting for our respite home care services, family caregivers can enjoy a much-needed break from caregiving while knowing that their elderly loved one is in good hands. And for seniors who require around the clock care, we offer 24 hour home care services.
 Are you interested in learning more about how Comfort Keepers of Palatine, IL and our caregivers can positively impact your senior's life? If so, please contact us online or give us a call at (847) 250-9179 If your loved one is in immediate need of care please schedule a care consultation with us today!