Comfort Keepers Offers Senior-Friendly "grandPad" Tech Device to Help Families Stay Connected
Nov 15, 2017 by Alex Holden
BUFFALO GROVE, IL – With the number of seniors opting to "age in place" in their own homes on the rise, the anxieties of their adult children appear to be increasing as well. Christened with the pop-culture moniker of "the Sandwich Generation," many middle-aged caregivers are finding that the stress of tending to the needs of both their aging parents and their growing children is overwhelming.
Luckily, technology has come to the rescue in the form of a user-friendly device called the grandPad. One local home care agency – Comfort Keepers of Buffalo Grove, Park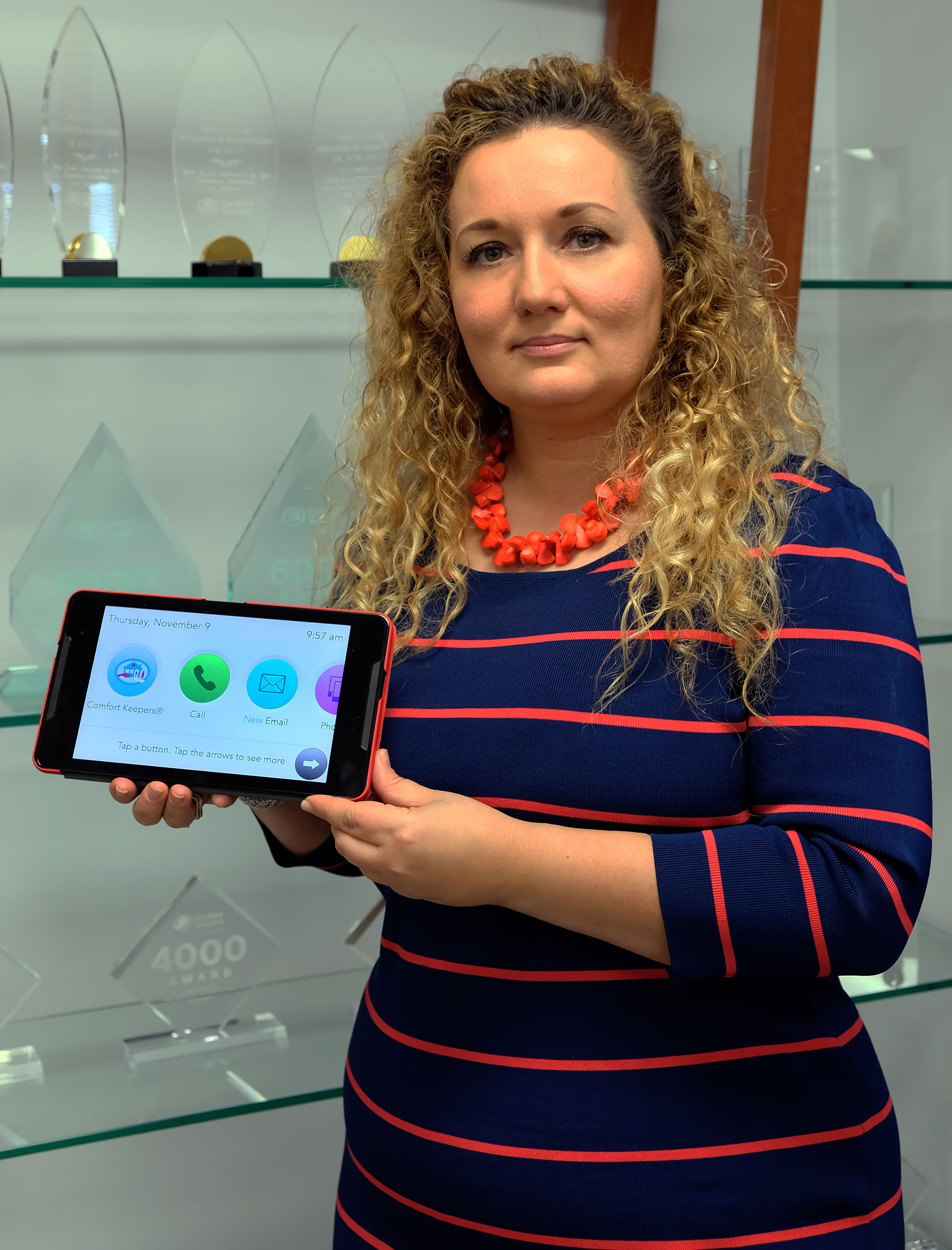 Ridge and Lake Forest – offers it to many of its clients free of charge. "We definitely find that families like the grandPad," said Anna Holden, general manager of the Comfort Keepers offices. "It's a safe and simple way for them to check in with Mom or Dad on a 24/7 basis, just to make sure everything is running smoothly at home."
Designed specifically for seniors, the grandPad allows older adults to take or send photos, view family photos and videos, call loved ones, send voice mails, play games and even listen to their favorite music at the touch of a button. "If a family caregiver has to travel on business, is working downtown or is driving their own children to-and-from school most of the day, the grandPad is extremely useful to them," Holden added. "They can touch base with their loved one in an instant and that eliminates a lot of stress and worry."
Comfort Keepers adopted the grandPad device as part of its core offerings for another reason – it is digitally secure. Operating on a closed-circuit system, the grandPad does not require Wi-Fi, and as a result, is not subject to hacking. And since this simplified version of a traditional tablet does not require the internet, seniors find it less stressful to use. There's no confusion about clicking on links and accidentally buying something they don't want or downloading a computer virus.
According to research done by AARP, 82 percent of seniors plan to remain in the own homes, even if they begin to need day-to-day assistance or ongoing health care during retirement. And 42 percent of seniors cite "living under one's own rules" as a key reason for aging in place. Holden said that with advances like the grandPad, they can do both, while still participating in the benefits of our digitally-driven culture. 
Holden believes that the grandPad embodies the Comfort Keepers mission. "We not only want to help seniors and other adults feel safe and remain healthy in their homes, we want them to be engaged," she said. "This kind of technology is a real gift to our families because it keeps them informed about their loved one's well-being and their needs."
While serving as both a wellness check and an entertainment device, the grandPad also gives older adults a bit of the autonomy they desire. "What this tablet represents is independence and empowerment for seniors," said Holden. "We've been working with families in the north and northwest suburbs for more than 16 years, but the grandPad is a new development for us. It's a tool that makes the world more accessible to those we serve – and that's a wonderful thing."
For more information about Comfort Keepers of Buffalo Grove, Park Ridge and Lake Forest, please call (847) 215-8550 or visit https://www.comfortkeepers.com/offices/illinois/buffalo-grove.