Local, Compassionate Alzheimer's Care and Dementia Care for Aging Adults in Jupiter Florida
Comfort Keepers brings expert care to the comfort of your very own home.
Comfort Keepers of Mississauga North/Brampton, Ontario provides a variety of personal and compassionate services for aging adults in and around the Mississauga North/Brampton, Ontario area. Although our services cover a variety of care needs, we specialize in Alzheimer's Care and Dementia Care for aging adults living with memory loss. Our expert in-home care providers are referred to as Comfort Keepers and can deliver a service of resolve to family members and loved ones. They provide a level of care and professional assistance that accommodate the needs of senior loved ones.
We meet with family members in the comfort of their own home to discuss the needs and determine the best approach for your loved one. We introduce ourselves and really take the time to get to know your parent or loved one facing memory illness. It gives us an opportunity to learn more about their likes, dislikes, condition of health and their capabilities. First-hand knowledge of these things makes it possible for us to develop a plan that will best services the family and meet the needs of the senior.
Dementia or Alzheimer's care plans can include any magnitude of our services, but are executed to provide sensitivity to the needs of our seniors. Our care providers are trained to ensure that seniors are in a safe environment and to engage them in activities and interactions that stimulate them mentally. The interactions include but are not limited to, crafts, cooking, listening to their preferred genre of music, reading a book, and much more.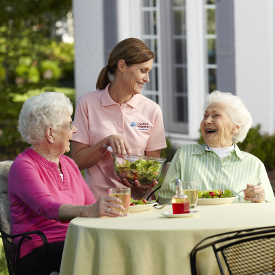 What is Dementia and Alzheimer's Disease Care?
In general, dementia is a decline in mental ability, such as memory loss or an inability to complete familiar tasks, serious enough to interfere with a person's daily life. Alzheimer's disease is the most common type of dementia, accounting for 50 to 80 percent of dementia cases. Our services help people with these symptoms by focusing on their remaining abilities and strengths, while assisting with tasks that have become difficult for the client to perform.
Personal care services are also included in our Alzheimer's and Dementia care plan.
The caregiver can assist in many ways, including the following:
Showers
Baths
Dressing
Transfers
Positioning
Hygiene
Toileting
Compassion care services are also included in our Alzheimer's and Dementia care plan.
The caregiver can provide these services in many ways, including the following:
Meal prep
Light housekeeping
Transportation assistance
Running errands
Caregivers encourage seniors to aide in their own care as much as possible, but they are there to assist as the tasks present too much of a challenge.
Alzheimer's and Dementia care require consistency, especially in caregivers. We are diligent in making certain that the caregiver paired with your loved one is compatible and available to meet their needs. Our care provisions are available part-time, full-time, or 24-hours per day. For seniors with memory illnesses, the ability to receive in-home care daily can drastically improve their emotional and mental well-being.
For more information about our Alzheimer's and Dementia care or other services we offer, please contact us today. We have a staff of compassionate and knowledgeable professionals that are eager and happy to assist you in finding a positive solution for your family. You can also call us at (561) 246-4795 anytime, we are available anytime to take your call!