In Home Care at Comfort Keepers of Tequesta, FL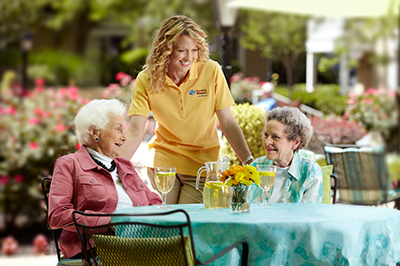 The many types of in home care available in Tequesta, FL are designed help families like yours in receiving the right type of care your loved one needs. These services help to enhance their quality of life regarding comfort and safety while living independently. Have an inside look into the care services below.
In Home Care
We are a top ranked in home care provider in the industry. Our professional caregivers deliver on daily tasks at home to enable senior residents to live easier and more safe.
Toileting, bathing, and general hygiene is one of the major problems affecting both the aging and disabled as many of them will feel embarrassed when helped to toilet. Some may also fear what would happen if they had a major fall while bathing. Maintaining a high standard general hygiene will also reduce chances of infections and bad smell. The services help these people to do the current jobs making them feel at their best always.
Transferring and Positioning is another problem that seniors face. The services help seniors to move from one position to another, from bed to wheelchairs and from one seating area to another. It contributes to strengthening muscles and reduces chances of bed sores.
Meal preparation and special diet is also a challenge to the seniors and physically challenged. The variety of assistance provided by our in home care services helps them in preparing and taking a balanced diet that prevents them from diseases that come from malnutrition.
Senior Care
The services here mainly revolve around interaction with seniors leading to companionship, enhanced personal care, and housekeeping services that make seniors life comfortable, independent and safe at home.
The seniors are actively engaged mentally, physically and emotionally to things they are longing to do. These activities help clear negative thoughts from the minds.
Activities such as physical exercises contribute to keeping them fit keeping them away from diseases and cases of falls as exercises strengthen their muscles.
Nutritious meals are also good for the body as they help maintain a sharp mind.
Respite Care
We all know how rewarding taking care of our loved ones can be. Most people want that, but we also know how challenging and stressing it can be. Honestly, it's a very demanding task, especially for people with full-time jobs. Everybody needs time off so they can attend to other things and personal matters meeting doctor's appointment and running other errands. One of the in home care services we offer in Tequesta is respite care, so that people can attend to other important issues.
These services will provide an opportunity for you to leave your house feeling that the people you love are well taken care of. You won't need to worry about your small kids and seniors at home as the services offered will save the day.
Alzheimer'
Our in home care services includes providing professionals who are very well trained to deliver the specialized services our residents need. They offer quality services to families struggling with this progressive disease during the difficult time.
The professional will first interact with these patients, getting to know their likes and dislikes, their past life and other personal things about them. This relationship will create a connection between caregivers and patients. The caregivers will help the patients to carry out those activities such as dancing and listening to their favorite music. It strengthens them mentally, emotionally and physically removing the negative thoughts on their minds.
End of Life Care
The in home care we offer provides professional end of life care to your loved ones when they are diagnosed with limited life expectancy. It's always a very challenging emotionally to know a person you dearly love has limited days to live.
The services are often offered by trained medical provider to meet adequately the patients wish to end their life at a comfortable place.
Some of the services provided include feeding, moving, toileting, bathing, positioning, and companionship.
Also, the services include offering a shoulder to lean during the mourning time for family members and help in moving the deceased staffs and making funeral arrangements.
Transitioning Home
After a stay at the hospital or rehabilitation facility, your loved one may need assistance in transitioning home and living safely and independently while maintaining good health and avoiding infection.
According to studies improper support and care after surgery or hospital stay can lead to a slow recovery or worse the patient be readmitted to the hospital. The services are offered specifically by trained professionals who provide emotional support to these patients.
The services are delivered according to patient's particular medical case such as heart attack and pneumonia. The transition period is always shorter and enjoyable when quality services are available.
Private Duty Nursing
In home care services at Comfort Keepers offer one-on-one private nursing either at home or hospital facilities to individuals. Some of the services provided by nurses include companionship, and personal care services are sometimes difficult for a regular family caregiver to offer.
The services ensure patients take prescribed drugs effectively, providing personal care, administering medication and other personal care services that patient's needs.
Comfort Keepers is a premier senior in home health care agency that provides a safer, healthier and more fulfilled life for your loved ones. Quality, affordable senior care can be hard to come by. It's this senior care agency that was created specifically for adults and senior aged people who have decided to live out their lives in their home, but also, need some assistance medically, at home activities and the ability to travel around. Rather than place a strain on the family that could struggle with ailing parents or elder seniors, Comfort Keepers is committed to providing a safe, comfortable and affordable service for senior-care in your home.
Comfort Keepers provides licensed, quality, senior care tailored to the specific needs of each client in Tequesta. Find out how we can meet your home care needs.
Call your local Comfort Keepers today for a free in-home consultation!
(561) 246-4795