Respite Care Services in Jupiter Florida
Comfort and compassion for caregivers in the Mississauga North/Brampton, Ontario area.
There are many challenges for family caregivers, and the circumstances make the entire situation more difficult. There are many cases where around-the-clock care becomes necessary in the blink of an eye. Seniors with diagnosis of dementia, Alzheimer's, or other severe illnesses will need consistent care. The changes in their personality and attitude can present as stressful, and in some cases dangerous to themselves and those caring for them. The level and method of care required for seniors who are living with end of life diagnosis is different than standard caregiving. Family members who have never dealt or faced the final steps of life with a loved one will present unexpected challenges.
The stress associated with caregiving is dangerous, which is why many long-term care providers sometimes develop chronic illnesses or severe depression. The stress can be alleviated without compromising the level or quality of care and attention your loved one receives while dealing with a life ending diagnosis.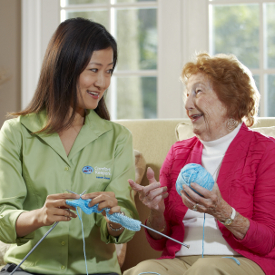 What is Respite Care?
Known in some countries as "short break" care, respite services provide planned short-term breaks for families and other unpaid caregivers who need time outside the home or to simply take a rest. Respite care helps support and maintain the primary caregiving relationship.
Jupiter Florida Respite Care Services
Insurance providers describe respite care services as short-term care provided to an individual when necessary to relieve the family members or the person caring for the individual at home. In other words, respite care services make it possible for family members to take a break and attend to their own welfare and personal health. Respite care professionals step in to care for their aging loved ones.
Comfort Keepers provides this service around the clock, 365 days a year. It is a convenient and much needed service that makes it possible for family caregivers to plan a day off, or more time if needed. In addition, Comfort Keepers offers an extensive range of care services and specializes in care for elderly living with Alzheimer's disease and dementia, transitions from the hospital to home, and end of life care provisions.
While respite care services are primarily in place for the caregiver of the family, there are many benefits for the senior also. It is normal for the caregiver to feel guilty or concerned about leaving their ailing loved one alone, but it could be good for the senior. Many times, the change of pace or attention helps the senior. Keep in mind, while seniors value and appreciate the care received from friends and family, they don't want to impose and feel strongly about their caregivers continuing life as usual. They don't want to add stress by taking the caregiver away from work, family, life or possibly cause them to fall behind in other important areas of their lives. Respite care services offer a new perspective with fresh faces that can interact with the senior, and help them remain social and engage their interest in activities that may lift their spirits, in spite of their situation.
Respite care services is there for the senior and the caregivers. The biggest con of getting respite is that family members often wait too long before enlisting their help. If you would like to talk to one of our expert about this part time care, call us at (561) 246-4795 anytime, we are available 24/7!