Testimonials About Our Senior Home Care in Hollywood, Miami, and the Surrounding Areas of Florida
Read what people are saying about Comfort Keepers senior home care in Hollywood, FL
Hundreds of people every day discover the exceptional brand of senior home care provided by Comfort Keepers in Hollywood and Miami, FL - from seniors and their families to the exceptionally caring people who discover Comfort Keepers and choose to become a Comfort Keeper themselves.
For more information about our senior home care services, call us today at (954) 289-1938.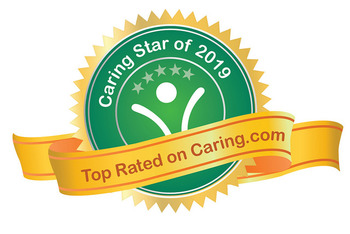 Click the badge to read our reviews on Caring.com!
Comfort Keepers is superior! I appreciate their attention to detail. The caregiver's work ethic is great because of the standard of care she shows and because she is reliable.
They were friendly and responsive to our needs. They were knowledgeable about conditions and care and were willing to help at the drop of a hat. If someone was not going to be there, they always offered a sub and gave good advice when needed.
I would recommend Comfort Keepers because of the promptness, kindness, and consideration of the staff. My caregiver's attitude is great! Most of the caregivers I've had will help out a lot and don't complain.
They do really well by me! They're very eager to help me out. I like them and they treat me very well. The best part about them is their availability! I'm living between a rock and a hard place here and someone has to be with the client. It's a bit of a problem and they are holding up their end very well!
I had a very good experience. The caregiver that I had was a gem. They should clone the caregiver that I had.
Comfort Keepers seem to have a good staff there and they seem to be efficient. There is always someone to speak to if I have a concern and they get back to me quickly if I have a question.
I would like to take the time to thank you for the wonderful service that was provided to me. You were most helpful in working with me to get the proper aid that I needed. I appreciate your thoughtfulness, and [the caregivers] were superb. They went out of their way to help me while I was ill and went above and beyond their duties to assist me. I would recommend your company to anyone who is in need of such a service.
We are extremely happy with the organization. They're very much on top of everything. Joan, the caregiver that was provided for my husband was like an angel. She is just wonderful. I can't express how pleased we are. She is dedicated, respectful and kind. She's very good at what she does.
I found Comfort Keepers in Southeast Community Senior Center in Hollywood. I have one caregiver her and she's just wonderful. She's so professional. She's willing to do anything to help out. She's a really nice lady and very reliable. We have Comfort Keepers for 6 years and I am very satisfied with them.
My daughter picked Comfort Keepers. I appreciate the ironing that my caregiver does. She also helps with other housework. I rely on Comfort Keepers and glad my daughter gave me the number to call! I would recommend Comfort Keepers! They are dependable and reliable. They also have great caregivers!
My daughter selected Comfort Keepers and it was a nice surprise for me. My caregivers are nice, kind, prompt, and are nice to deal with. My caregiver is terrific! She anticipates what I need, which is a wonderful thing to do, and she doesn't pester me.
My sister is in the Medical field she did the research and picked Comfort Keepers. I appreciate everything. It's an excellent company. Very responsible CNA's they know what they are doing try to get Marie Ann if you can. If it wasn't for her I wouldn't be able to do what I have to do.
I was dealing with two other agencies and they could not find me anyone that I was looking for. I felt that Comfort Keepers would be reliable. I appreciate my aide, she is absolutely wonderful! She has a huge heart, is understanding, and caring! She has never missed a day!