Senior In-Home Care Services in Granby, CT and Surrounding Areas
Comfort Keepers® of Granby offers a variety of customized senior in-home care services to meet the unique needs of each senior.
It's a daunting and heart-wrenching task trying to find home care solutions for an elderly parent or grandparent. You love them and want to avoid nursing homes or assisted living facilities. But you also know you and your family members can't provide 24/7 home health care. You have questions about eldercare costs, including how Medicare, Medicaid, and health insurance affect your options. This is where in-home support services from compassionate caregivers such as Comfort Keepers provides the right care solution for your loved one.
Every client has unique care needs and situations, so each Comfort Keepers® Granby office offers a full range of senior in-home care services to provide seniors with the right amount of support for independent living at home. Your care services program will be designed to each care recipient's specific needs, including everything from Alzheimer's and Dementia Care to Live-in Care to Respite Care options that can spell family caregivers for short periods of time.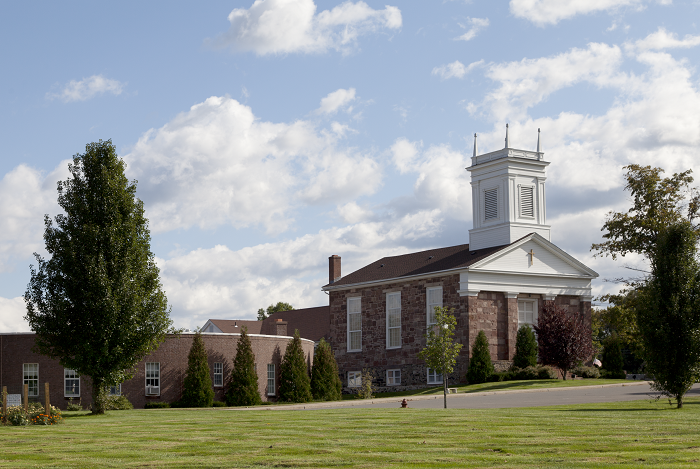 Learn more about the wide range of senior care services we offer to elders
At Comfort Keepers Granby, our senior care is designed to meet a senior's unique care needs. Our caregivers focus their care not only on a senior's physical well-being, but with Comfort Keepers, their social, mental, and emotional well-being are also nurtured and cared for. Whether your loved one needs assistance with grooming and bathing, or they need companionship and conversation, our in-home caregivers will be there to provide them with the care and support they need and deserve. At Comfort Keepers, our caregivers are able to provide care from a mere 30 minutes a week to up to 24 hours a day.
Below, you will find additional information on the many services we offer to senior's and their families in the Granby, CT, area. You will find information on our Alzheimer's care, dementia care, respite care, end of life care, and more. If you cannot find the information you are looking for above, contact us today. One of our senior care advisors would be happy to answer any of your questions, or to schedule an in-home consultation for your senior loved one.
In-Home Care in Granby, CT and Surrounding Areas
Comfort Keepers® Granby offers a variety of customized care services to meet the unique needs of each senior.
Every client has unique care needs and situations, so each Comfort Keepers® office offers a full range of in-home companionship and personal care services to provide seniors with the right amount of support for independent living at home.
Comfort Keepers Provides Leading In-Home Care to Seniors
Family members can breathe easy. Our care services program can help you if you are a family caregiver that needs assistance with your loved one. Whether it is an elderly parent or grandparent that needs care, our care coordinator will craft a unique plan that addresses the needs of your loved one specifically while being inclusive of the entire family. If you have any questions about our senior home care and in-home services, please contact us today.
The core of our in-home care plan revolves around non-medical home care for older adults from qualified caregivers that supports an elevation of spirit and brings peace of mind in the comforts of your own home, instead of an independent living facility.
Our clients get compassionate care from our team of expert home care providers in a wide variety of assistance with activities of daily living, including:
Personal Care Services, such as mobility assistance, bathing, grooming, and hygiene.
Companionship Care Services such as conversation, meal preparation, light housekeeping, incidental transportation, assistance with groceries and errands.
Long-term Care Solutions, including medication reminders, Alzheimer's disease and dementia care, 24-hour or live-in care.  
Granby, CT In-Home Care Assistance
Granby is a town in Hartford County, Connecticut. Granby is a rural town, located in the foothills of Litchfield Hills of the Berkshires. Primarily a rural residential community, Granby is home for many white collars and professional workers in Greater Hartford's financial and insurance corporate headquarters and industries. Granby is bordered by the towns of Suffield, East Granby, Simsbury, Canton, Barkhamsted, and Hartland.
Who You Are
Are you currently a resident of Granby, CT, with a loved one that needs some extra help? Have you taken on the responsibility of the primary care provider? Maybe you are prepared for this responsibility, or maybe this is totally out of your element. Regardless of your unique situation, tips, pointers, and a helping hand can make the world of a difference for both you and your loved one. Being a family member and a caregiver can be a stressful and taxing event. Home health care from Comfort Keepers may be the answer you and your family.
Who We Are and What We Will Do for You
Comfort Keepers of Granby is composed of a top-rated team of personal care aides, which will provide you with assisted living services to uniquely benefit your situation. Our caregivers will quickly become companions to you and your loved ones and help you achieve the best quality of life possible. We provide various services from interactive caregiving to transitioning home services to in-home care. Our team is professional, caring, and committed to helping you enjoy everything Granby's community has to offer! Please contact us for additional information at (860) 242-7739.
Find The Right Home Care Solutions For Your Loved One In Granby, CT
Comfort Keepers is proud to offer our industry-leading professional home care services to residents of Granby, CT and Hartford County. We offer internationally recognized in-home care for seniors and adults in need of assistance. Whether your loved one simply requires companionship and some assistance with light chores and housekeeping, or more specialized care for dementia, chronic pain or terminal illness, Comfort Keepers professional home care can help. Each of our client's care plan is unique to his or her needs and carefully crafted to ensure your loved one gets the most out of the services we provide.
Our caregivers work within the greater Granby and Hartford County communities to find resources, activities, and events to enhance the care we provide in your home. This is part of the Comfort Keepers Interactive Caregiving Philosophy, which is based in research that points to physical and social activity as important factors for maintaining health, happiness and increased life expectancy for seniors. We work with The Town of Granby Senior Services department and Granby Senior Center to provide companion care, entertainment, activity and event options for seniors as well as resources for health and wellness. We believe that all members of the Granby community should be valued and we work to do our part to advocate for the seniors who live here.
Comfort Keepers caregivers work to incorporate activity and socialization into the daily care routines of each senior client in other ways, too, including grocery shopping at the local Geissler's and Super Stop & Shop markets, walks through Salmon Brook Park, picnics in Enders State Forest and other activities throughout the area. Our professional home care assistants can also accompany your loved one to any planned activities or appointments if requested and can even take notes at doctors' appointments for future reference. Our care team also keeps track of local businesses that offer senior discounts and special sales that may be pertinent to our clients' interests.
Get the Help You Need Now
Acting as a caregiver and a loved one can be a challenging feat in my situations, but it can also be a very enriching experience. Let our team at Comfort Keepers ensure that this is a positive experience for both you and your family.
Fran Reviews Comfort Keepers of Granby
"I think Comfort Keepers have the most compassionate, caring people working for them. Richard is very caring and patient. My husband sees him as a real friend, and I want him to have that. Comfort Keepers has very much improved his quality of life."
Fran G. – Granby, CT
Comfort Keepers of Greater Hartford provides in home care services in the following cities and neighborhoods in Connecticut:
Avon, Bloomfield, Canton, North Canton, Collinsville, East Granby, Granby, West Granby, Poquonock, Simsbury, West Simsbury, Tariffville, Weatogue, Simsbury, Windsor, South Windsor, West Hartford, Hartford, East Hartford, Capital District, West End, Blue Hills, Bishops Corner, West Hartford Center, Blueback Square, Elmwood, Glastonbury, East Glastonbury, Manchester, Vernon Rockville, Colchester, Cromwell, East Hampton, Marlborough, Portland, Farmington, Newington, West of Mountain Road, Wethersfield