Maintaining Senior Nutrition With A Home Health Aide in Merced, CA
You can count on our team to help your loved one eat a nutritious, balanced diet
Aging comes with a variety of challenges, not the least of which is finding it hard or impossible to handle many basic tasks like making meals.
There is NO reason why any senior should ever have to deal with malnutrition.
Of all the things that seniors start to lose the desire to do, preparing healthy nutritious meals every day is one of the most common. This leads to an endless stream of TV dinners and processed foods.  A home health aide from Comfort Keepers is fully trained in preparing a wide variety of nutritious and delicious meals.  
Give us a call at (209) 881-9100 to learn more!
What Is So Important About Good Nutrition for Seniors?
As your loved one moves into their golden years their mind and body undergo a variety of changes. These include slowing down and often a loss of sensitivity, especially when they are taking several prescription medications.
As their nutrition levels start to drop, your loved one might start to:
Notice changes in their sense of taste
Might find their body becomes slower at producing natural nutrients
Start to see a decrease in appetite
Might find their body becomes slower at absorbing outside nutrients
The other issues that poor senior nutrition can lead to are disease, illness, lack of mobility, and broken bones, they will also find it takes them much longer to heal.
The best thing you can do to help your loved thrive is to make sure they are eating right. 
How Can Comfort Keepers Make a Difference?
At Comfort Keepers, we like to think of your loved one's home health aide as their own personal chef. Not only do they like to work with your loved one to make great meals, but they also love sharing recipes. They can prepare dishes that meet all dietary needs both personal and medical.
Our agency can:
Plan daily/weekly meals: working with your loved one they can help plan meals by the day or a week in advance.
Doing the shopping: aging also leaves many seniors unable or unwilling to drive. We can help by taking them shopping and hanging out with them or do all the shopping for them.
Preparation of meals: many seniors struggle to handle basic prep tasks such as peeling, cutting, chopping, and working with heavy pots. What they might not realize is that these tasks can be good for arthritis of the hands and the mind. Our care providers are ready to help with these tasks or to take care of them themselves.
Help with Eating: for many seniors, illness, disease, and simply aging can leave them unable to feed themselves. Our team is trained to assist them without making them feel as though they are losing their dignity.
Creating a Nutritious Diet
Just making sure the bills are paid is often all many seniors can do, buying healthy food and eating enough of them every day is out of the question. They keep their grocery bills affordable by filling their cupboards and freezers with frozen dinners and processed foods. Add in the many medications seniors tend to be on, and you have a recipe for disaster.
Thankfully, there are a number of local, state, and federal assistance programs that can help. Some like Meals on Wheels can deliver hot meals daily and ready to heat meals.
Here is a short list of these agencies:
Be sure you visit https://www.benefitscheckup.org/. to learn more about the many benefits available to your loved one. 
You can also help your loved one by:
Creating a shopping list to stick to
Looking out for coupons or sales
Shopping for foods that are in season
Seeing what you can get at the grocery store versus a farmer's market
Growing your own fruits and veggies
Reading and comparing food labels (healthy doesn't always mean expensive!)
Storing food in the refrigerator or freezer so they keep longer
Buying fresh food options first
It doesn't take many calories to keep your loved one going, but unless they eat a healthy nutritious diet every day, malnutrition is a distinct possibility. A home health aide may not be a gourmet chef, but you wouldn't know it by the meals they prepare.
The meals they prepare and the ones you should be preparing should include:
Protein/Fish
Fruit
Vegetables
Whole Grain
Low Fat Dairy
Your loved one's doctor can feel you in on any nutritional information you need, including any special dietary needs they might have. Also, remember to READ the LABELS, many so-called healthy foods are not as good for you as they claim to be.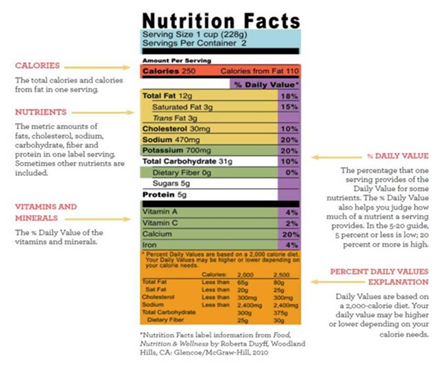 Image provided by the National Council On Aging
Your Loved One's Favorite Treats are Not Banned
 One of the first things you might think needs to happen is to stop your loved one from enjoying their favorite snacks and dishes. They can still enjoy them from time to time, just use less salt/fat when preparing them.
Contact Us
It can be hard to do what is necessary to ensure your loved one gets the right senior nutrition. Each home health aide has undergone training in providing seniors with the nutrition they need. If you would like more information, contact Comfort Keepers of Merced, CA at (209) 881-9100 and schedule your free care consultation with one of our senior advisors.