Los Angeles Home Care Entrepreneur Wins 2019 Comfort Keepers Quest For Excellence Award
Learn more about Bill Cardenas and the 2019 Quest for Excellence in Home Care Award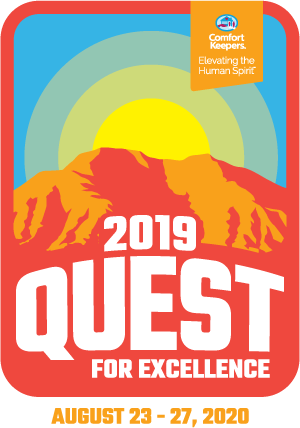 CK Franchising, Inc. (CKFI), the franchisor of Comfort Keepers® in-home care, recently recognized Bill Cardenas, owner of the Los Angeles Comfort Keepers Home Care office, for an outstanding achievement with the Quest for Excellence Award. The annual Quest for Excellence award recognizes Comfort Keepers franchisees who are the top sales performers with revenue growth or who deliver the greatest percentage year-over-year revenue growth within a category.
Cardenas is being recognized and honored for delivering a stellar business performance in 2019. Part of the recognition includes an incentive trip to Ojai Valley Inn & Spa.
Comfort Keepers is a leading franchise that offers in-home care services to seniors and others needing assistance, allowing them to live comfortably in their own homes, maintain their independence, and enjoy enhanced quality of life. [Cardenas has owned the Los Angeles Comfort Keepers franchise for 13 years.
"Comfort Keepers is very fortunate to have Bill in Los Angeles providing quality services to seniors and other adults in need while helping them maintain joy, family and connection in their lives" said Carl McManus, CEO Comfort Keepers, North America. "His hard work, tenacity, and commitment to his clients truly deserves to be recognized and applauded." 
"I am honored to receive this award," Cardenas said. "I take pride in the type of service I provide to my clients, knowing that what I do helps them live better lives. It feels great to be recognized for doing work that I find meaningful."
--
To learn more about the home care services available in Los Angeles, CA, please contact us online or call us today.